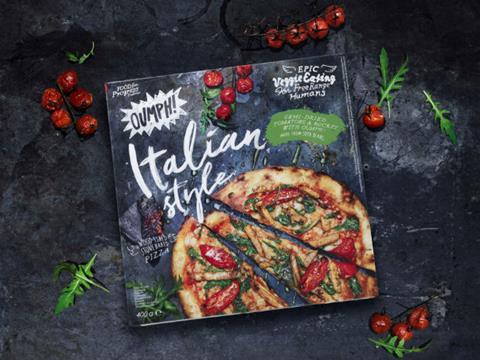 Swedish meat alternative brand Oumph is to broaden its UK presence with a vegan pizza.

Set to roll out on 16 September, the Italian Style frozen pizza (rsp: £3.99/400g) is topped with semi-dried tomatoes, rocket, Oumph's soya-based meat alternative seasoned with thyme and garlic, and a Violife organic vegan cheese alternative.

It is due to go on sale in 179 Tesco stores, while the brand will also launch plant-based bacon alternative Oumph Salty & Smoky (rsp: £3.49/280g) alongside the rest of the Oumph range in the freezer aisle.

Oumph hoped its pizza would "reach new consumer groups beyond the core vegan and vegetarian fan base" said Anna-Kajsa Lidell, co-founder & head of progress strategy for brand owner Food for Progress.

"There is an increasing demand for plant-based options but, often, we just don't have time to cook. This is when we need good, fast food that tastes great."

Oumph's pizza created a buzz in February upon launch in Scandinavia, selling out within days in Sweden and Iceland due to "overwhelming demand".

The brand made its UK debut in Tesco earlier this year, gaining listings for three of its 10 meat alternatives. Kebab Spiced, Pulled and Chunk variants went on sale in freezers in March as part of Tesco director of plant based innovation Derek Sarno's push to offer a wider variety of plant-based options.