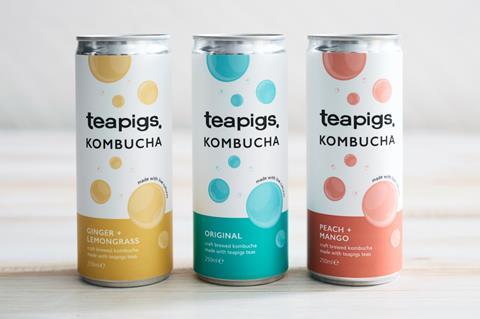 Teapigs is moving into the RTD sector with a trio of kombuchas.
Launching in three flavours – Original, Ginger & Lemongrass and Peach & Mango – the kombuchas contain 100% natural ingredients, with no artificial flavours or sweeteners added.
They were made using "top quality" Teapigs teas, plus a symbiotic culture of bacteria and yeast, and brewed in small batches in the UK. The brand said it was the first among its competitors to brew and sell its own range of kombuchas.
Teapigs co-founder Louise Cheadle said that using the brand's own tea would help the cans compete in the growing kombucha category.
"We figured better tea, equals better booch," Cheadle said. "Rather than using syrups, juices or flavourings, we've got an award-winning range of teas and fruit infusions, so why not use those real brewed teas to make a delicious drink?"
Cheadle added that the kombuchas would appeal to "those looking for healthier soft drinks or beverages" as alternatives to alcohol.
She said the RTD format made them the "perfect drink" to take along to summer barbecues and trips to the park.
The cans have a 12-month shelf life and have rolled into wholesale channels (rsp: £1.90/250ml).
For every can produced, 5p will be donated to the brand's 'Ethical Scheme', which supports vulnerable young people in Rwanda, where Teapigs sources much of its tea.