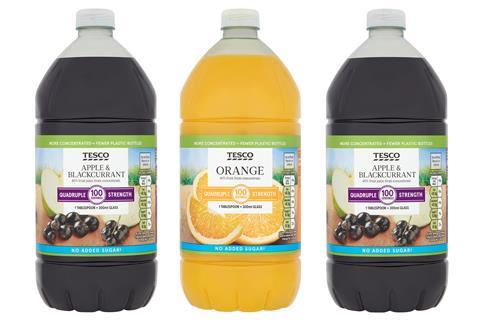 Tesco has completely revamped its own-label squash range in a bid to crack down on plastic.
The retailer has ditched its previous line of 1.5-litre Double Strength squashes, which were priced at £1, introducing in their place a range of Quadruple Strength squashes at a higher price (rsp: £1.75).
It has also launched a 750ml range of Quadruple Strength squashes designed to offer the same amout of serves as the prior 1.5-litre range at £1 per bottle.
Tesco is touting the move as being better value for shoppers and the planet, with the retailer claiming "customers can now enjoy the same amount of delicious-tasting squash as they have done previously, while using half the number of plastic bottles".

"When diluted in line with on-pack guidelines, each serving costs just 1.8p, compared to the 2p per serving cost of a classic bottle of double strength," it said.
The squashes have launched in flavours including Orange & Mango, Cherries & Berries, Apple & Blackcurrant, Orange, Lemon & Pineapple, Apple & Strawberry, Tropical No Added Sugar, Lemon No Added Sugar and Summer Fruits.