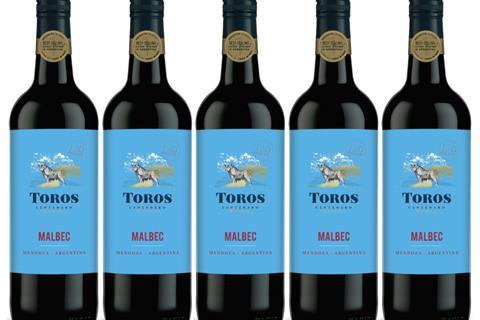 Benchmark Drinks has netted a major deal with Tesco to stock Argentina's bestselling wine brand.
Toros Centenaro (13%), a Mendoza malbec, will launch exclusively into 800 Tesco UK stores in November, as well as 150 stores in Ireland (rsp: £7/70cl).
The wine is produced by Argentinian wine giant Fecovita, which recently enlisted Benchmark Drinks to distribute its brands in the UK.
Tesco had been involved in the development process of Toros' UK iteration from start to finish, said Benchmark MD Paul Schaafsma, including tweaking the blend and designing the pack. Schaafsma said he hoped the NPD would "really shake up the market".
The wine is called Toro in its home market, but had to be renamed for UK launch as 'Toro' can only be used in the UK to refer to the Spanish wine region.
Fecovita was "aggressively" eyeing expansion into export markets due to falling wine consumption in Argentina, Schaafsma previously told The Grocer, where the rise of craft beer had eaten into its market share.
The regional also provided "exceptional value for money", he added. "If you think about the new world: in Australia bulk prices are higher, in New Zealand there is a much higher average litre cost. South Africa has been short of water and gone through tough vintages.
"So in terms of those key commercial price points, South America is hitting the sweet spot and malbec is a variety that people are excited about. I think you will see a lot of shiraz drinkers switching to malbec."