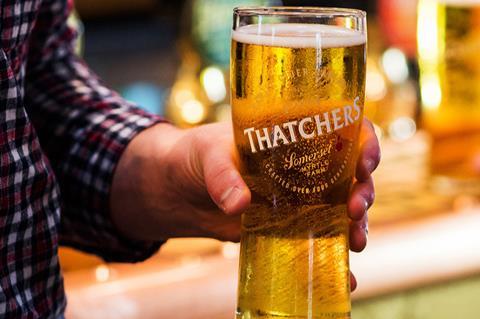 Thatchers Cider is to launch its first non-alcoholic cider over coming months, The Grocer can reveal.
The Somerset-based cidermaker applied to register the name 'Thatchers Zero' with the Intellectual Property Office this week.
Confirming the move, its head of brands Yvonne Flannery said Thatchers was "working hard to create a low-alcohol cider that meets all our criteria – that's to say a great-tasting cider that people appreciate and want to come back for more of, whilst making it appealing for those who want to moderate.
"I'm pleased to say we're currently trialling a product locally that so far has been receiving really positive feedback. We hope to be bottling soon for an early 2020 launch."
The news comes on the back of a solid year for Thatchers' brands in the supermarkets: sales of Thatchers Gold were up £4m (8.1%) to £52.9m over the last year.
Thatchers Haze, meanwhile, grew its value by more than a third (37.3%), adding £5.1m to hit £18.8m [Nielsen 52 w/e 7 September 2019].
William Reed – the publisher of The Grocer – has launched a new trade show for the Low & No Alcohol sector. For more info visit low2nobev.com