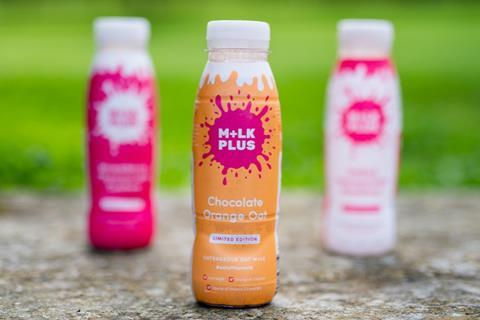 BBC's The Apprentice star Camilla Ainsworth has unveiled the third flavour for her gourmet nut-milk brand M+lk Plus.
The new flavour – Chocolate Orange Oat – marks the third to be released since Ainsworth appeared on the show, and joins existing SKUs Salted Honeycomb Hazelnut and Strawberry Cheesecake Cashew (rsp: £8.99/4x330ml).
Chocolate Orange Oat is billed as having a thick and creamy consistency as well as being low in sugar and fortified with vitamin D, calcium and vitamin B12.
It claims to be the first grab & go flavoured oat milk on the market.
Ainsworth said the new flavour tasted "the most similar to cow's milk" and its creamy texture made it "feel indulgent" while still having "great health credentials".
It launches online and on Amazon today (20 September) in a new orange colour pack, featuring the classic pink M+lk Plus branding.