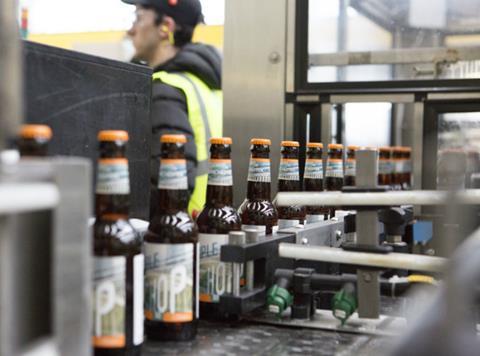 Co-op and Robinsons Brewery have come together to launch a range of craft beers, with tasting notes by the retailer's scheme members.
Set to land on shelf on Monday (13 March), the three-strong lineup comprises Golden Ale (4% abv) and IPA (4.5%). Both come in a 500ml bottle, with the former described as having a "golden caramel complexion" and the latter as being "voluminous" with "good body". They are joined by Triple Hop, "a complex but contemporary blend of hops" in a 330ml bottle, with an abv of 5.5%.
Each beer is brewed with spring water from the Peak District National Park, which collects in the well underneath Robinsons' Stockport premises. Their packaging features hand-drawn images of the brewery, Deansgate Bridge and Salford Lads Club, along with tasting notes selected from those submitted by 100 randomly selected Co-op members.
The "incredibly collaborative" project between Greater Manchester retailer and Cheshire brewery had "a sharp focus on quality", said Martyn Weeks, head brewer at Robinsons, which was founded in 1838. "Born within six years of each other in neighbouring counties in the North West of England, we have come together to brew great tasting beer for the people who matter, the customers."
Co-op beer buyer Richard Dennett added: "We are continuously working on new and exciting ways to bring products to market."