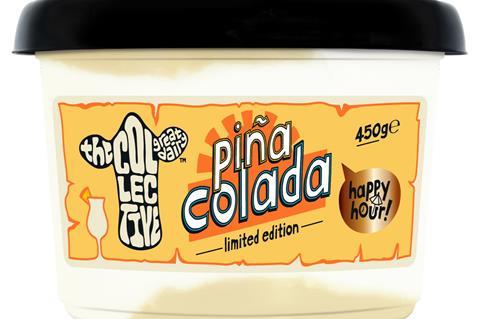 The Collective has launched Happy Hour, a cocktail-inspired range of limited edition yoghurts.

Its first line is a Piña Colada yoghurt made with pineapple, desiccated coconut and a hint of Jamaican white rum (representing 0.18% of the recipe and giving the product an abv of 0.5%).

Happy Hour started rolling out this week in Sainsbury's, Waitrose, Asda, Ocado, Morrisons online and Whole Foods (rsp £2.19/450g). It aimed to give shoppers a "feel good" moment of permissible indulgence, said co-founder Amelia Harvey.

It will be on sale until the end of August when it will be replaced by an espresso martini variant. The launch will be supported by a marketing campaign featuring shopper marketing activity, PR, digital advertising and social media.

Harvey said the brand also had plans for a third, as-yet undisclosed limited edition later this year.

"Happy Hour epitomises what we're all about as a brand; combining our award-winning taste with a 'feel good' campaign that will sure put a smile to consumers' faces, as we bring their ideal happy hours to life in homes and offices alike with our fun social media campaign," Harvey added.