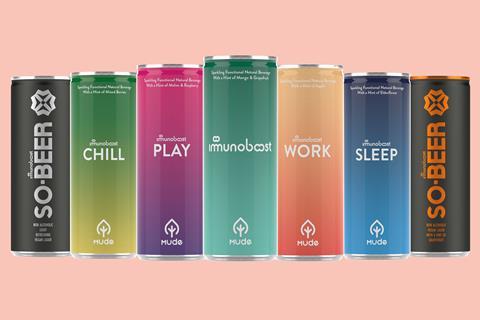 Functional drinks brand The Naked Collective has debuted with two 'super drink' ranges designed to meet the needs of health-conscious shoppers.
The drinks are made using The Naked Collective's signature 'SuperLiquid' – an isotonic liquid containing B vitamins and minerals including potassium, selenium, iron, calcium, zinc and silicon.
They are claimed to boost the immune system and offer additional benefits such as lowering cholesterol and improving blood sugar management due to the additional inclusion of beta-glucans.
Its first two ranges – Mude and So Beer – were both made through a "unique" brewing process allowing for quick nutrient absorption, it said.
Mude consists of five brewed functional drinks: ImmunoBoost, Sleep, Chill, Play and Work, all of which have been designed to support a positive physical and mental change to "help you take control of your day", said the brand. They include various additions such as BCAAs, ashwagandha, chamomile and valerian root (rsp: £2.50/330ml).
So Beer, meanwhile, is a range of plant-based alcohol-free lagers with immune-supporting benefits (rsp: £6/4x330ml).
The brand has kicked off with a fundraiser, from which it hopes to raise €5m (£4.5m) to help launch the lineup in the UK, Ireland and Canada.