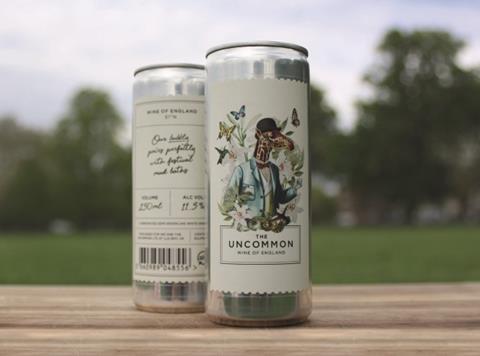 South London startup The Uncommon has launched what it claims is the UK's first English wine in a can.
The brand, which produces its wine with hand-harvested Bacchus grapes from Surrey, has launched exclusively into Selfridges this week, with an eye to raising the profile of domestic wines and cracking down on wine wastage (rsp: £5/250ml).
The single-serve can would "help to reduce the billion litres of wine thrown away each year in the UK", said the brand. "Fizz goes flat after just a day so it's the perfect solution for bars, restaurants and cheeky toasts at home."
It added: "When you consider that one billion bottles of wine are imbibed in the UK annually, Britain is the second-largest consumer of champagne (after France) and that we put away one third of all prosecco produced, there is need for a light, convenient and easily recycled option.
"The average wine consumer is now younger and more adventurous, going to one or more of the 7,000 registered outdoor events held in the UK each year that prohibit glass. Cans are an ideal alternative."
The Uncommon plans to extend its presence into the on-trade, restaurants and convenience stores further down the line.