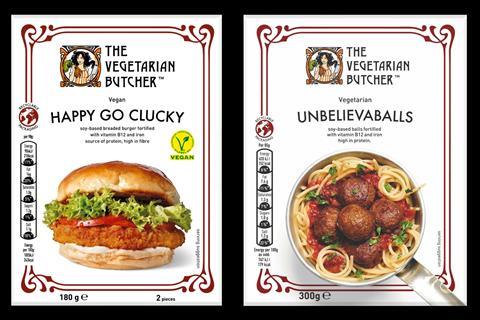 The Vegetarian Butcher has launched frozen versions of its bestselling chilled products.
Its Patty on the Back quarter pounders, Happy Go Clucky chicken-style burgers, Unbelievaballs 'meatballs' and Little Peckers chicken-style nuggets rolled into Sainsbury's freezers on 27 March, with a wider retail rollout planned (rsp: £2.75-£3.49/180g-300g).
The range, which offered "something for every type of meaty craving", would "entice new and existing plant-based shoppers into the category", said the brand.
It said its latest research on consumer behaviour had revealed that shoppers in the plant-based market were "adventurous and searching for new ways to reinvent their mealtimes with meat alternatives".
These shoppers were looking for "larger and more value for money plant-based frozen ranges", it added.
Georgina Bradford, UKI nutrition marketing director for The Vegetarian Butcher, said the range delivered "a convenient plant-based option for flexitarians and vegans, as well as giving meat lovers the chance to cut down on meat without compromising on taste".
It comes on the back of a strong year of sales for the Unilever-owned brand, which more than doubled in size to £6.9m in the 52 weeks to 11 September 2021 [NielsenIQ].