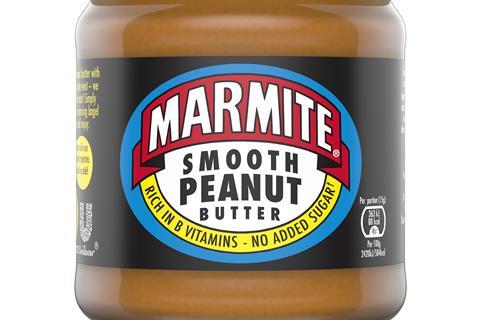 Unilever has added a new smooth version of its Marmite Peanut Butter mash-up.
The spread rolled into Morrisons this month, joining its crunchy counterpart, with a wider retail launch to follow in February (rsp: £2.50/225g). It is vegetarian-friendly and contains no added sugar or palm oil.
The launch will be backed by a "six-figure" marketing push, with the brand looking to start a new nationwide debate – the 'Nuterendum' – to discuss what it says is "the question on every fan's lips – smooth or crunchy?".
"When it comes to Marmite, people either love it or hate it – similar to the debate over smooth versus crunchy peanut butter," said Unilever foods brand experience director Fikerte Woldegiorgis.
"Not only will this new launch provide smooth peanut butter lovers with a brand new option, drive incremental sales and category growth, it will also see us continue in our mission to provide better breakfast choices."