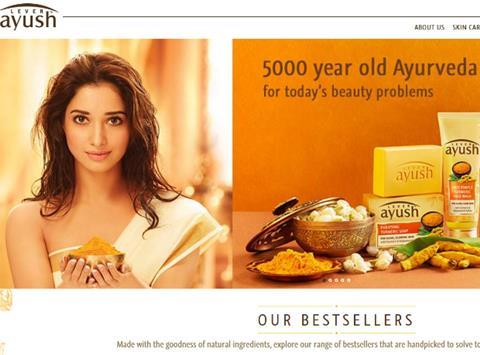 Unilever looks set for a UK launch of Lever Ayush, its beauty and personal care offer from India.
Based on the ancient ayurveda system of holistic medicine from the Indian subcontinent, the brand offers "natural solutions to common problems of the skin, hair and teeth". The woman-focused products are made with sustainably sourced ingredients including cardamom, saffron, cow ghee and shikakai (an Asian climbing shrub).
Unilever launched Lever Ayush in 2001, repositioning it four years later as a premium, direct-to-consumer brand. It later became available in stores. The company announced another overhaul in summer 2017, adding more than 20 products in the face of growing demand for ayurvedic products in southern India.
In the UK, Unilever has registered the Lever Ayush name with the Intellectual Property Office under class three, which covers such products as face cream, soap, cosmetics, shampoo and skin cream.
The supplier declined to comment on the possibility of a UK launch – which would see Lever Ayush sit alongside Love Beauty & Planet, Unilever's sustainable beauty and personal care brand for women unveiled in July.