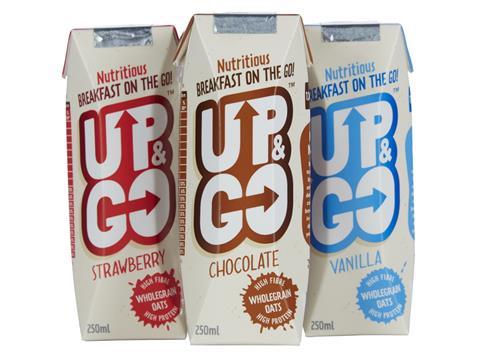 Leading Australian breakfast drink Up & Go is to make its UK debut next month.

The drinks will roll out to 500 Tesco stores the first week in February, followed by the other major supermarkets in the coming months. It will be available in three flavours - chocolate, vanilla and strawberry (rsp: £1.39/250ml). Based on wholegrain oats, the drinks contain 170 calories each, are high in protein and fibre but low in fat. Each bottle is claimed to deliver the protein, calcium and fibre of a bowl of cereal and milk.

Up & Go, which launched in Australia 15 years ago and is now worth £78.7m [Retail World Annual Report 2014], is being brought to the UK by new business Life Health Foods UK.

The products had been adapted for the UK with added vitamin D to "bring a little ray of Australian sunshine," while the packaging had been given a modern makeover, said CEO James McMaster, former co-MD of Ella's Kitchen.

McMaster claimed the brand would "revolutionise and redefine" the UK on-the-go breakfast category by tapping consumer demand for a nutritious breakfast that was "truly convenient."

"The UK breakfast market is ripe for change and the evolution has already begun," he said.

In Australia, Up & Go accounts for 40% of all breakfasts eaten on the move and has overtaken leading breakfast brand Weet-Bix to become the best selling product in the breakfast category.

Life Health Foods UK is supporting the launch with a multimedia push.