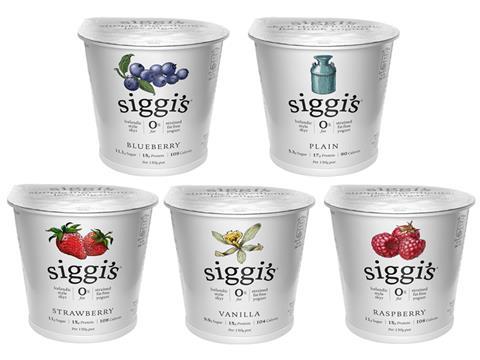 Icelandic-style skyr brand Siggi's has launched in the UK, just over a year since it was taken over by French dairy giant Lactalis.
Five variants of the yoghurt, in plain, raspberry, strawberry, vanilla, and blueberry flavours (rsp: £1.20/150g) rolled out in Sainsbury's late last month.
The brand was among Nielsen's Top 25 Breakthrough Innovations in the US last year, alongside the likes of low-calorie ice cream sensation Halo Top and Oreo Thins. Siggi's launched in 2004, and was initially sold in New York markets, before becoming the top-selling yoghurt brand in Whole Foods Market Stateside. It was acquired by Lactalis in January 2018 for a reported $300m.
Its initial lineup is produced in Slovenia, and contains no fat, preservatives or artificial ingredients, said founder Siggi Hilmarsson. The yoghurts are made without refined sugar, with agave nectar, cane sugar and fruit used in its place. This resulted in them containing 30% less sugar than the average of adult flavoured yoghurts in the UK, it said.
"Our products are all based on a traditional skyr recipe, which is so close to my roots in Iceland," said Hilmarsson. "Our values of using simple, natural ingredients and less sugar are ones we believe will resonate well here in the UK. Consumers are actively trying to reduce sugar in their diets without compromising on taste and quality."
Traditionally, skyr was made from the skimmed milk left over after cream was floated off to make butter, he added. While standard yoghurt was made with skimmed off milk, the process of making skyr saw water strained away, meaning Siggi's used about four times more milk than other yoghurts to produce the same volume, it claimed.
"Siggi's has been such an incredible success story in the US and we are delighted to be able to bring this exciting new brand to the UK and Sainsbury's stores nationwide," added Lactalis UK marketing manager Paul Wiseman. "Siggi's philosophy has always been to use simple, natural ingredients and less sugar to make great-tasting yoghurt. With the UK becoming quite the nation of foodies we look forward to helping consumers develop their own taste of home with Siggi's."