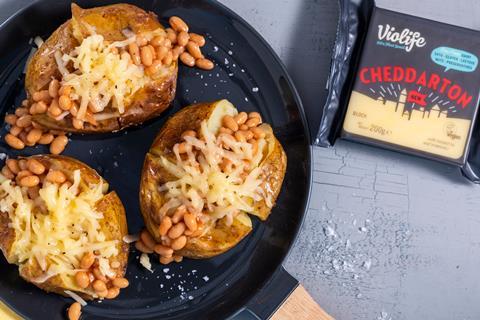 Violife has launched a new vegan cheddar alternative, Cheddarton.
The Upfield-owned brand has launched Cheddarton (rsp: £2.75) into Sainsbury's, Tesco, Asda and Morrisons stores across the country.
Coconut oil-based Cheddarton is designed to have a "crumbly and creamy texture" to be sliced, melted, crumbled or grated so it can be "seamlessly incorporated" into various dishes.
"Our new plant-based Cheddarton is the result of extensive research and development – with consumers at the heart of it – aimed at providing cheddar lovers with a delicious alternative that aligns with their values and dietary choices," said Jess Millner, senior brand manager at Violife.
The product is free from the top 14 allergens, including dairy, soya, gluten, lactose and nuts, as well as preservatives, is non-GMO and is fortified with vitamin B12.
The brand also claims that the alternative has fewer than half the carbon emissions and uses two-thirds less of the land to produce when compared with dairy products.
"We want to make it easy for consumers to make the switch without sacrificing on taste and texture, so they can go plant-based and stay cheesy," said Millner.
The brand's move into cheddar alternatives follows cheese leader Cathedral City's launch of a plant-based alternative last September.