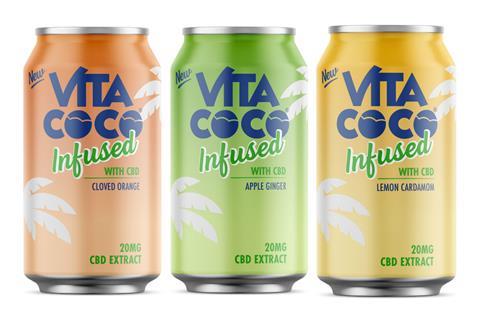 Vita Coco is gearing up to join the edible cannabis craze with a trio of healthier sparkling soft drinks.
With 20mg of broad spectrum CBD per 330ml can (6mg per 100ml), the new lineup contained "the highest amount of CBD extract currently available on the UK soft drinks market" Vita Coco said.
Lemon Cardamom, Apple Ginger and Cloved Orange (rsp: £2.49) are made with a coconut water base, sparkling water and natural flavourings – with 100ml providing 7kcals and about 1g of sugar.
Vita Coco CBD was intended to be a "healthy alternative to some of the more sugary products currently on the market" said the brand. It would "help consumers relax and unwind at the end of a long day, and is a great alternative to an evening alcoholic beverage or the booming low and no category".
The new drinks are the result of around 10 months' planning. They will be available from 21 November at retailers including Holland & Barrett, taking on the likes of Drink 420, The Leaf Life and Trip – all launched since the start of 2019.
They come as Brightfield Group, a market research provider for the legal cannabis industry, expects the cannabidiol products market across Europe to grow 400% by 2023. Last year, its value was estimated at £258m.
Now was the right time to become "one of the brands to build the CBD beverage category" said Vita Coco MD Tim Rees. "Sales of CBD products are continuing to grow globally, and we are excited to be one of the first major drinks brands investing in this category."
Vita Coco CBD would not only appeal to "those looking to embrace this popular wellness trend", Rees added, it was also "underpinned with all the added benefits of coconut water and the trusted efficacy of our supply chain".