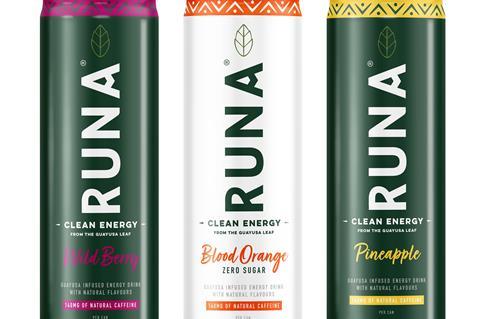 The maker of Vita Coco is to bring US natural energy drink Runa to the UK, as part of its strategy to offer a portfolio of healthier beverages.

All Market would roll out Runa in July in an effort "to redefine the energy drink category" it said. Three variants are expected to make their debut in Sainsbury's and "selected retail partners" in a 330ml can (rsp: £1.49).

They contain 45mg of caffeine per 100ml from guayusa, a 'super leaf' sustainably grown and processed in Ecuador, making them 31% higher in caffeine than Red Bull.

However, guayusa had "no jittery side effects" said Vita Coco UK MD Tim Rees. The ingredient provided "a much smoother and sustained energy high" than traditional energy drinks.

Runa is also significantly lower in sugar than the category leader. The new brand's Wild Berry and Pineapple variants contain around 4.6g per 100ml, compared with Red Bull's 11g, while its Blood Orange is sugar-free.

The drinks will be made in mainland Europe, where they will become available in coming months along with the Middle East.

The Brooklyn-based Runa was established in 2008 as a 'clean' energy drink, and became part of the All Market stable last June. It was currently a "nine-figure" business with "several thousand distribution points in the US" said Rees. And a partnership with Keurig Dr Pepper would this year see it "build up to the distribution you see with Vita Coco".

All Market's acquisition of Runa came as the company sought to build its offer of "better-for-you beverages that are underpinned with natural credentials" Rees added. Soft drinks used to be about simply providing refreshment, but now there were "multiple need states".

All Market also intends to continue to grow Vita Coco, which is set to add a range of sparkling, fruit-flavoured drinks.