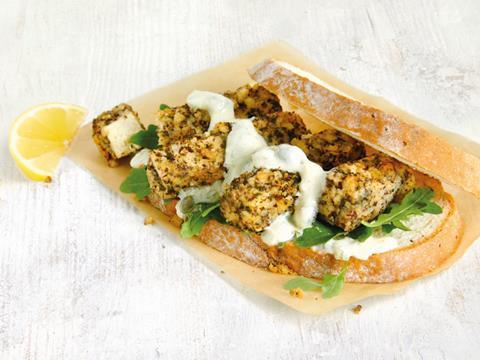 Waitrose has further expanded its vegan range with the addition of fish-free 'fish fingers'.

Making their debut this month, its own-label fishless fingers are made from breaded seaweed tofu, with a crispy coating and "subtle fish flavour".
They will be available in Waitrose stores and online for an introductory price of £3.19, alongside its first-to-market own-brand vegan tartar-style sauce, made from silken tofu, gherkins, capers, lemon and parsley, for £1.59 (£3.99 and £1.99 respectively from 30 January).
Waitrose said the products had been introduced in response to increasing demand from its customers for more vegan and vegetarian items. Sales of its vegan and vegetarian SKUs saw a 71% increase in 2018, while sales of its vegan party food range were up 20% since its launch in October 2018.

The upmarket grocer added 50 new own-label vegetarian and vegan lines in June last year, followed by 30 more in October.
"After the successful launch of our vegan and vegetarian range, we've been working to see what other interesting dishes and products we can add to the range," said Waitrose chilled vegan and vegetarian buyer Chloe Graves. "The fishless fingers are a great vegan alternative to a much-loved food which we hope our customers will love."

It comes as animal welfare campaigners have turned their attention to seafood in recent months, with PETA unleashing a new set of 'Me not Meat' posters on the Tube featuring a variety of sealife ahead of Christmas. Compassion in World Farming also launched its new #RethinkFish campaign at the end of last year to help improve the welfare of "the trillions of fish - both farmed and wild - which are used for human consumption every year".

Growing demand for plant-based fish alternatives has prompted a wave of NPD in the UK, with the brothers behind Tesco's Wicked Kitchen range set to launch new brand The Good Catch this month. Three variants of fish-free tuna, made with a six-bean protein blend and algae for a seafood flavour will hit shelves first, followed by a range of fishless burgers.

Worldwide Food Associates is also set to launch Loma Linda's tuna alternative Tuno in the UK this year, while Impossible Foods is reportedly working on its own fake fish alternative.