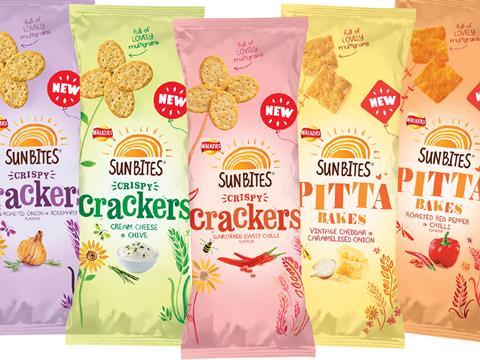 Walkers has extended its booming Sunbites bagged snack brand into the savoury biscuits market with crackers, pitta bakes and packs containing crackers and a dip.

Rolling out at the end of this month, Crackers & Dip (rsp: £1.49) comes in a box with a 36g bag of salted crackers and an 80g tub of dip in two varieties: Caramelised Red Onion Chutney and Sundried Tomato & Roasted Red Pepper Salsa. Also launching are Crispy Crackers, which come in a 5x24g multipack (rsp: £1.89) in four flavours, and Pitta Bakes, also in a 5x24g pack (rsp: £1.89), in three flavours.

Depending on retailer, the new products would be stocked in the crisps aisle, savoury biscuits aisle or across both, said Walkers, which is supporting the launch with a TV campaign that will debut on 18 February.

The launch follows a 27.8% hike in sales of Sunbites to £35.4m, ­making it the fastest-growing top-20 bagged snack brand [Nielsen 52 w/e 11 October 2014].

"Consumers are seeking snacks they don't feel guilty about eating, and that's exactly what Sunbites offers them," said Walkers senior ­marketing manager Lee-Teng Chung. "It felt natural to expand the range with tasty products that are packed with ­wholegrain but still provide delicious bites." The Crispy Crackers flavours are Cream Cheese & Chive, Sun Ripened Sweet Chilli, Roasted Onion & Rosemary and Lightly Salted; while the Pitta Bakes will be available in Cheddar & Caramelised Onion, Roasted Onion & Rosemary and Roasted Red Pepper & Chilli.