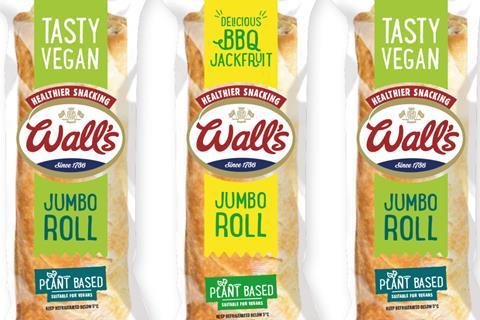 Leading sausage roll maker Wall's Pastry has joined the plant-based craze with its first-ever vegan range of snacks.
The four-strong lineup comprises four SKUs: Vegan Jumbo Roll, BBQ Jackfruit Jumbo Roll (rsp: £1.25/120g), Vegan Snack Rolls and BBQ Jackfruit Rolls (rsp: £1.50/4x30g).
The Vegan Rolls are made with a mix of minced mushrooms, oats and seasoning, wrapped in vegan puff pastry, while their Jackfruit counterparts are filled with pulled jackfruit and hickory-smoked BBQ sauce.
The packs feature clear 'healthier snacking' and 'plant based' messaging, green and yellow colouring, and a large window to display the contents.
Available now, the lineup would "open the brand up to the 91% of consumers who now follow flexitarian diets and the 3.5 million Brits who follow a strictly vegan diet" Wall's said.
While meat remained "at the heart of our business", Wall's believed "everyone should be able to enjoy our products, no matter what diet they follow" said Michael Holton, brand marketing manager at owner Addo Food Group.
The launch comes after Gregg's added a vegan sausage roll at the beginning of the year to much publicity. The business hailed it as one of the most successful launches in its history, upgrading its full-year profit expectations due to booming sales driven by the meatless snack.