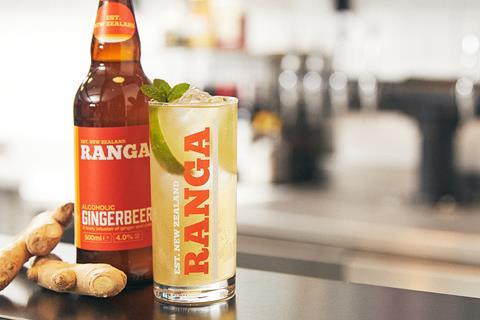 Westons Cider has partnered with New Zealand boozy ginger beer brand Ranga to bring the drink to the UK.
The two brands have signed a deal which will see Westons brew Ranga at its Herefordshire base and lead its UK sales and distribution.
Westons said the move "reflects Westons' long-term growth strategy of collaborating with brands that offer clear synergies with the family-owned cider business".
It's the second tie-up for Westons this year – in February it inked a similar deal with Dutch 'botanical brewery' Lowlander.
Ranga itself rings in at 4% abv and is billed as offering "a clean, dry and refreshing alcoholic drink with a feisty kick" with lower sugar than competitor brands. It has rolled out in 500ml bottles (rsp: £2).
Westons head of business development Darryl Hinksman said it saw Ranga "resonating particularly strongly with younger drinkers and we expect broadest appeal to be amongst experimental 25 to 38-year olds".
"There's lots of room for growth in the category as there are currently so few products sitting in this space," he added.