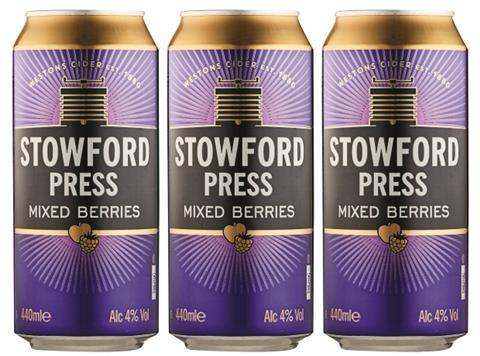 Westons is poised to challenge Strongbow Dark Fruit in the off-trade with the retail debut of its Stowford Press Mixed Berries cider.
Billed as Westons' "most successful ever launch in the on-trade", the 4% abv fruit cider will roll out in 4x440ml packs into Waitrose and Ocado from mid-October (rsp: £5).
The drink had "smashed all previous records" for Westons since it launched into the UK's pubs and bars in March this year, said Stowford Press brand manager Holly Chadwick.
Indeed, Westons' head of business development Darryl Hinksman told The Grocer earlier this year Mixed Berries was "50% ahead of where we had budgeted to be" after just seven weeks on the market.
It comes as fruit cider sales have surged 13.6% year on year, according to latest IRI data [52 w/e 18 August 2018]. Westons has predicted it will make up almost half of all on and off-trade cider sales by 2023.
Stowford Press Mixed Berries' largest competitor in the off-trade will be market leader Strongbow Dark Fruit. The Heineken-owned frontrunner has gone from strength to strength on the back of the fruit cider boom, racking up £98.6m in value sales in the last year alone (an increase of £7.8m on the prior year) [Nielsen 52 w/e 21 April 2018].
Westons ranked 55th in The Grocer's ranking of Britain's Biggest Alcohol Brands this year, having added a cool £5.6m (12.4%) to its value, which hit £50.5m [Nielsen].