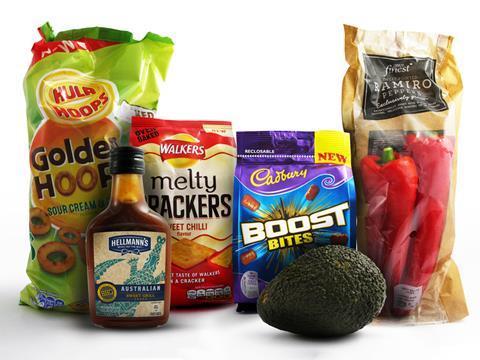 If you believed the newspapers, you could be forgiven for thinking food innovation was limited to either 'shrinkflation' or 'clean eating'. But as a new report shows, NPD remains hugely varied. So are we giving shoppers what they want?

Cambridge Market Research's Top 100 Products of 2016 report tested 415 innovations from branded suppliers and leading retailer own-label ranges on consumers across the UK. The final rundown of 100 top innovations comprised those that secured the best overall score on 10 key measures, including noticeability in store, pre-trial interest and purchase intention. So, what do these top products have in common and what do they say about today's shoppers?
Top 10 innovations
Walkers Crackers Melty Sweet Chilli
Müller H'w'n Dream Corner
Kettle Bites Maple BBQ Wholegrain Waves
Hula Hoops Golden Hoops - Sour Cream and Chive
Tesco Ramiro Peppers
Aldi Intensely Sweet Grapes
Walkers Bugles, Sourcream & Black Pepper
GM Marketing Sugar-free Caramel Crunch Popcorn
Asda Cornflake Mini Chicken Fillets
Hellmann's Australian Sweet Grill Sauce
Value for money
Earlier this week, IGD revealed rising food prices sat at the top of consumers' financial worry list, ahead of climbing energy bills and wage freezes. So it's no surprise that value for money was a key factor in rating innovations. The top 100 products in CMR's list were 94p cheaper on average than all those tested, whether own-label or branded. And Aldi came out as the leading retailer, up from fourth place last year, followed by Morrisons. Sainsbury's and Lidl - joint top of the ranking in 2015 - have both slipped dramatically down the ranks.
Harder to please
The economy was also cited as a reason why consumers are becoming increasingly hard to please. Overall ratings of food and drink innovations in the CMR report fell to an eight-year low, suggesting consumers want more and more for their money. Punters aged 35 to 54 were particularly hard to please as their choices were informed and stymied by the challenges of maintaining a family budget.

It's partly because Brits have been spoiled for choice, claims Chris Blythe, director of the Brand Nursery. "We've been blessed over the past decade with the opportunity to experience a massive range of food adventures. It's increasingly difficult to genuinely excite."

Vicky Bullen, CEO of Coley Porter Bell, believes online shopping is also accountable for the lack of buzz over innovations. "Consumers are directed to their favourites, therefore immediately forgoing chances of picking alternatives. It's also harder to interrupt decision-making online and woo people with new products than in the in-store environment, where people can browse."
NPD trends of 2016
Not innovative or too much?
Many of the year's leading innovations were twists on familiar ranges. Take Müller's Hawaiian Dream Corner at the number two slot, or the number 11 product Cadbury's Boost Bites - bite-sized versions of the well-known chocolate bar. This makes sense given the high risk genuine innovation presents - especially with the ceaseless jostling for shelf space.

Plus, shoppers' tastes remain largely conservative. More off-the-wall ideas alienated consumers, CMR found, with the likes of Venture Foods' Geo Edamame Beans and Tesco's Eat Lean Protein Cheese not even making its longlist of 400 (a key reason being underperformance in taste and texture). "The reality is people like limited experimentation," says Bullen. "Despite saying we're a nation of food lovers, 39% of British people refuse to try food they haven't eaten before."
Semi-clean eating
Shoppers' choices clearly had improved health in mind: the leaderboard showed a consistent theme of reduced fat, less salt and low calorie. But forget the clean eating movement of shunning sugar and processed foods for a diet full of fresh fruit and veg. Just 6% of the products in CMR's top 100 were fresh and only two made the top 10 (interestingly, both sweet varieties).

Instead, consumers have latched on to so-called 'permissible treats'. Three of the top five products were savoury snacks that were baked rather than fried, including first-place Walkers Melty Crackers Sweet Chilli, with Kettle Chips and Hula Hoops following in places three and four.

This is hardly surprising given the boom in healthy snacking. Manufacturers have found "myriad ways to construct a savoury snack from all manner of virtuous ingredients" from lentils to seaweed, says Blythe. He predicts future focus will be on flavour.

This is a key selling point, stresses Bullen. "Consumers want the best of both worlds: a slightly healthier version with all the taste to make them feel better about their choices."
The innovations the world wasn't ready for
Waitrose Chicken Consomme (ranked 411)
Venture Foods Geo Edamame Beans (ranked 412)
B Free Wheat and GF Sweet Potato Wraps (ranked 413)
Easy Bean Chickpea Crispbread: Moroccan Spice (ranked 414)
Tesco Eat Lean Protein Cheese (ranked 415)
Power of frozen
After years of decline, public opinion of frozen is changing for the better. It was rated one of the healthiest categories and the best value for money - landing Asda's Cornflake Mini Chicken Fillets in the top 10. Frozen food advocate Iceland's marketing has had a halo effect on the entire frozen category, says Bullen. And as brands such as Ambrosia and Saucy Fish Co have made their first moves into frozen, there has also been a rise in quality.

The change in attitudes was a long time coming, argues Greg Vallance, managing partner at Honey Creative. "Birds Eye used to talk about freezing the peas the moment the pod went pop - but no one believed it."

There's still some way to go before frozen is truly accepted, Blythe warns: "Our ingrained belief, built over the past 30 years, that chilled food is superior in quality to frozen is still fundamentally there and will take some shifting."

Ultimately, CMR's Adam Morris says Brits are "clued-up shoppers but pragmatic". So don't expect the protein cheese to fly off the shelves just yet.