The Fancy Food Show in New York is now in its 64th year, with the 2018 edition attracting around 2,500 exhibitors and an estimated 35,000 visitors. It's a far cry from the first show in the Astor Ballroom on Times Square that had just 82 exhibitor booths.
The show's success has been built on its role of acting as a window into the world of new food innovation, and its record of helping new brands grow from saplings into mighty oaks. Brands such as Popchips, Honest Tea, Ben & Jerry's and Stonewall Kitchen all emerged from The Fancy Food Show.
The Brand Nursery has been attending the show for a decade now and we've developed a keen eye for emerging trends and those curious, exciting new innovations that just might lead to something significant in the coming years.
Here's what we spotted in 2018…
1. Some like it hot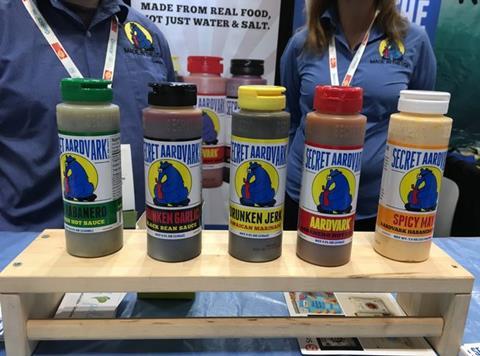 It was 37C on the streets of New York this week, and it was pretty fiery in the (thankfully air conditioned) halls of the show too – and this was down to the number of hot sauces on offer this year.
Some, like Pain is Good, were just scarily hot, and turned their challenge to the human palate into an advantage. We were more drawn to the likes of Secret Aardvark, which made more of a virtue of using natural ingredients, had more contemporary packaging, and had the kind of intriguing brand name that draws you in.
And then there was 'It's Hot, But it's Sweet, But it's Hot' – another unignorable brand idea that extended beyond sauces into nuts and was, frankly, all a bit mad.
2. Cauliflower flourishing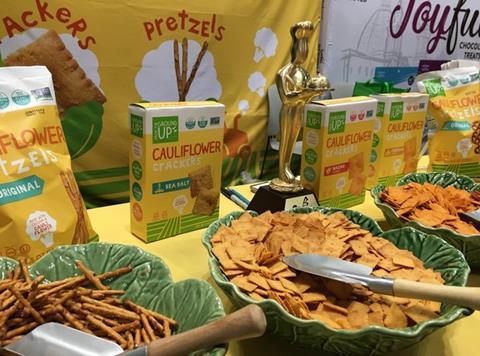 There's often a familiar ingredient that suddenly starts to get used in new and interesting ways – this year it was the humble cauliflower. Its high vitamin C and fibre content make it yet another natural food source to use as a base for a whole variety of different products.
From The Ground Up had a range of pretzels and chips made using cauliflower, whilst Kitchen & Love was displaying a range of cauliflower-based microwaveable meal pots (moving on from their quinoa range that, presumably, is now so last year).
Caulipower claims to be "revolutionising comfort foods by making them better for you". They had pizzas made from cauliflower as well as baking mixes that are vegan, gluten-free and dairy-free – the finished products tasted just as good as if they'd been made using standard wheat flour.
3. Pasta plus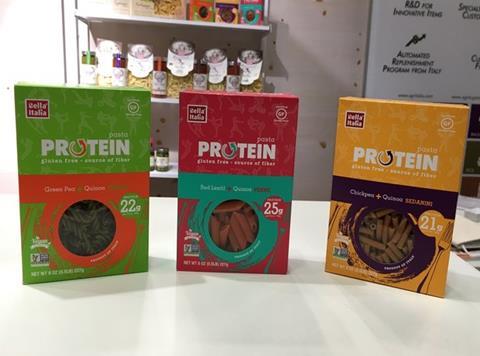 There were a host of pasta products this year that sought to differentiate themselves from 'ordinary' dried or chilled pasta lines.
Some, like Connecticut's Nuovo, were adding decorative colour to their chilled ravioli to enhance its visual appeal, whilst others were exploring new ingredients to deliver or add to pasta to enhance their nutritional profile.
Bella Italia had enhanced its range of authentic Italian pasta by introducing a new range of protein-rich pasta that uses vegetable ingredients. Pedon from Molvena in Italy adopted a similar approach for its More Than Pasta range.
And Trulli Sassi seeks to stand out in this crowded market through distinctive packaging that reflects the traditional rooftops of the Trulli region of Puglia.
4. Canned fish reimagined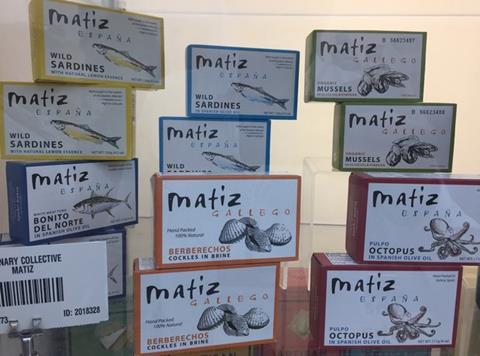 The humble can of fish has been around for… well, forever. Although its contents meet many on-trend criteria, that traditional flat can packaging is in need of a bit of a makeover.
There were a fair number of examples through the show halls of companies that were doing just that. Ecofish from New Hampshire had its Freshe range that added vegetables to create light meal options, and presented them via vibrant, contemporary pack designs, and Matiz from Spain was also displaying strikingly modern pack designs.
Safe Catch from California has gone a stage further and put its sustainably caught tuna into ambient pouch packs, and added contemporary flavours like Tandoori, Chilli Lime and Citrus Pepper.
And Season's 'Savouries' are a canned sardine lunchtime 'kit' that includes crackers, salad and a spoon along with the sardines.
5. Ginger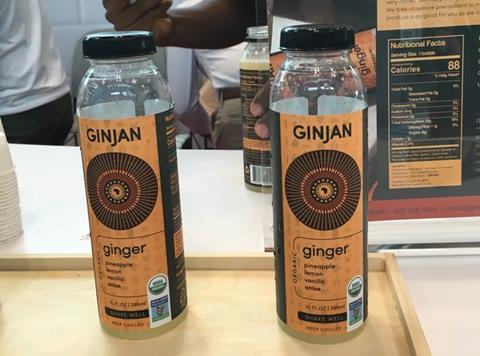 Another ingredient that was much in evidence at the show was ginger – most notably within a range of new beverages.
Ginger's natural energy-giving properties appear to be at the heart of this (small) revolution.
Ginjan's organic ginger juice is made in New York, but is inspired by the West African heritage of its Guinean founders – a spicy, tasty drink that feels authentic and different.
The Ginger People offers a range of 'Rescue Shots' that really pack a punch and are the perfect way to wake up your senses (trust me, on day three of the show that's a valuable tonic). And Annie's Ginger Elixir was just that – a spiky fermented potion housed in elegant packaging.
6. Shots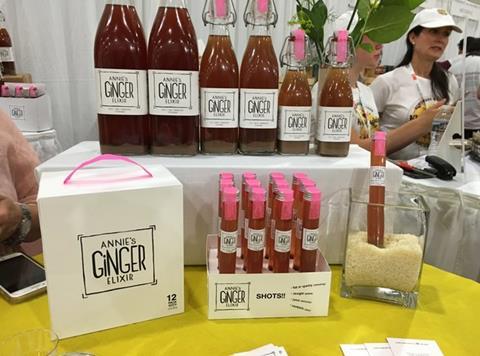 It wasn't just ginger-based shots that were present at the show – several others using other herbs and spices (notably turmeric and ginseng) to deliver peppy shots are positioned as a great way to kickstart your day.
With the energy drink sector battling both the impact of sugar taxes and something of a 'dirty' reputation, these natural boosters are well placed to offer a credible alternative to coffee for that 'wake me up' moment.
Speaking of which, coffee shots could be found at the show too. Forto coffee shots come in handy little pots, can be drunk hot or cold, include a Hershey chocolate flavour for those with a sweet tooth and target millennials.
7. Everyday vegan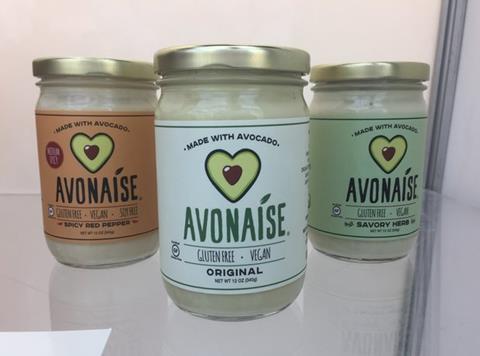 The vegan sector appears to be reaping the benefits of a (very) virtuous circle at present – more media and marketing interest as well as more products becoming available, making it easier for consumers to dip their toes in the vegan waters.
Through recent research that we've undertaken it's becoming clear that vegan foods are no longer just used by a committed few – they are increasingly being eaten and enjoyed by a host of flexitarians who simply choose the vegan option from time to time.
There were plenty of products on display in New York that help to pull vegan food into the mainstream. Vegan hot dogs (Yeah Dawg from Brooklyn – where else?), vegan pulled pork, vegan jerky (using mushrooms, and absolutely delicious) and vegan sausages were all in evidence – mostly from American brands like the guys from No Evil from North Carolina.
And there were several vegan mayonnaise products using ingredients like avocado or sea algae to replace egg, delivering a lighter, natural alternative to traditional mayo.
8. Anything but a bar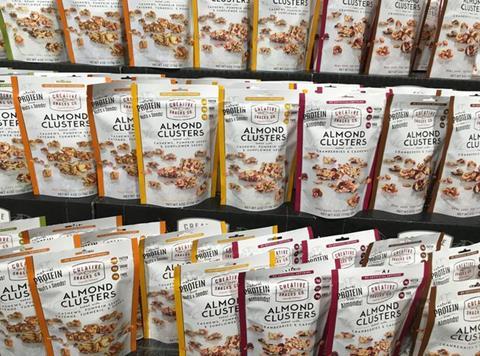 There were an awful lot of energy bars at the show (there always are, and the 'wall' of these products in Whole Foods in Manhattan now fills a complete 24ft fixture). To be honest, it's difficult to distinguish between them beyond the occasional clever brand name, so it's no surprise that the burgeoning snack/energy sector is branching out into other formats.
We saw clusters (lots of clusters), balls, bites, sticks, minis, squares, thins, rounds, even 'brittles' and 'cracklets'. Anything to find a slightly different angle to differentiate the pressing of dried fruit, nuts and seeds into an energy-giving snack.
9. The joy of eating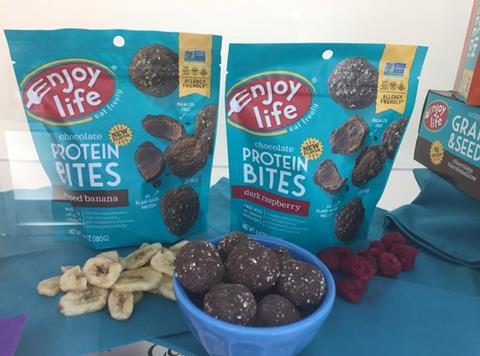 Whilst an awful lot of what was on display at the show was being promoted for its health and well-being properties there were a range of brands that recognise that food should be celebrated for its ability to please us too.
Shan Foods from Pakistan offers a range of unremarkable looking (but probably very tasty) spices mixes, and promotes them as "giving you a bite of happiness every day".
Joyfuls are chocolate treats that mix rich, dark chocolate with fruit, nuts or seeds and a hint of salt to bring pleasure to sweet snacking. And Joyfull is a range of parmesan crisps offering a whole-heartedly savoury route to joy.
Enjoy Life brings a more positive, celebratory tone to the world of gluten and allergy-free foods – enabling those who need to watch what they consume to "eat freely".
Because, after all, food should be a pleasure!
10. Seeded on Amazon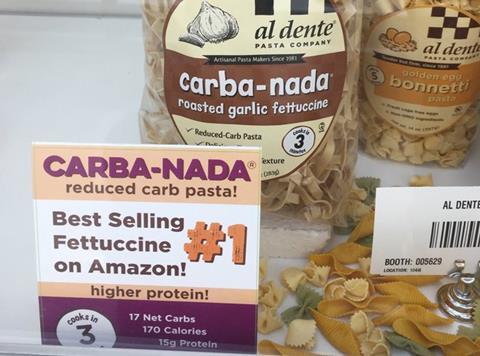 There were a number of fledgling businesses that we met at the show that have used Amazon as the first means of distribution for their new product ideas. This online space allows them a degree of control over the quantities that they make available for sale and removes a lot of the complexity of the route-to-market process, particularly in the USA. For many it is becoming the easiest option to explore and demonstrate the potential for their offering.
Whilst some more experienced industry figures we chatted to did offer words of caution about the commercial models that Amazon operates, it does appear that this channel may increasingly rival the gourmet and more premium supermarkets as a testing ground for new food ideas.
And finally: other notables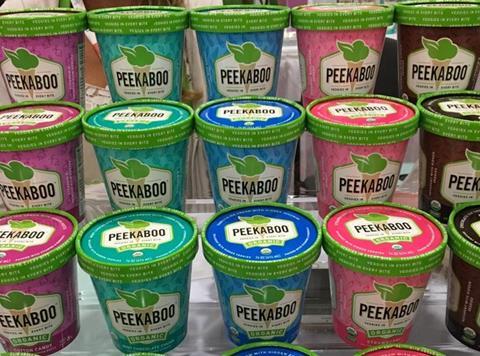 Back in the 1970s The Fancy Food Show introduced the world to chocolate covered ants. They never really caught on (although there were snacking bars made from cricket flour on display in 2018) but this kind of novel innovation does, sometimes, lead to something more substantial. Here are a few of the more unusual items we saw this year.
Peekaboo – ice cream with 'hidden' vegetables to make it easier to get some greens into your kids' diet
Bohana – popped lily seeds (popular in India) that offer an alternative to popcorn without those irritating hard kernels that always get stuck in your teeth
SugarSin – this brand from London had a range of adult candy sweets including gin and prosecco flavoured gummies
Food Paint – from Noshi in New York, these are organic food colourants that kids can use to add fun colours to their cake and cookie decorating without parents having to worry about E numbers
Owl's Brew – drinks that were part beer and part tea. Perfect for the British?