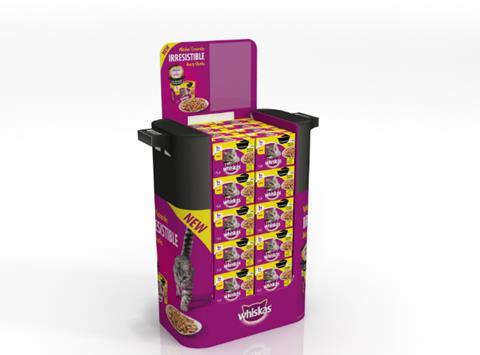 Whiskas is hoping to claw back £18.9m in lost sales with the launch of Casseroles, created to tap cat owners' growing preference for premium petfood.

Set to be backed by a £10m media spend, the stew-like NPD promises a 'totally new texture sensation' and is meant to resemble the hearty meals Brits prefer during winter. It comes in single-serve pouches in four variants – Poultry, Fish, Meaty, and Fish & Meaty (rsp: £4.50/pack of 12) – and is aimed at the third of UK cat owners who are willing to pay a higher price point for more 'natural-looking' petfood, according to Whiskas senior brand manager Gina Head.

Casseroles was "sure to drive growth for the cat category", she said, adding Whiskas expected the Poultry variant to become the brand's third-bestselling SKU following its 1 January rollout.

It follows the Mars Petcare brand's premium Creamy Soups lineup, which landed on shelf earlier this year as cat owners increasingly traded up, leaving the mid-market Whiskas with a 9% (£18.9m) deficit in value sales on volumes down 7.3% [Nielsen 52 w/e 3 September 2016].

The new Casseroles range is set to be backed by a £10m campaign, including a TV advert, which will hit screens in February – after Whiskas has given pet owners the chance to win one of 100 premium casserole dishes by reviewing Casseroles online from 9 January. The brand will also run a sampling push to give away four million sachets, while YouTube, social media, in-store activations and PoS activity will also figure.