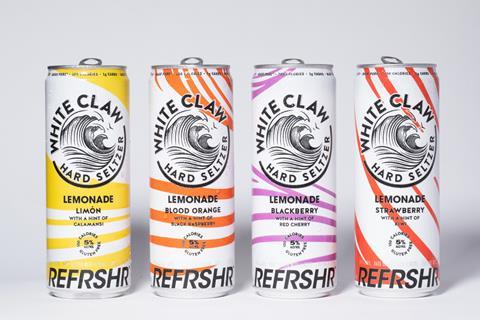 White Claw has underlined its ambition to be a top 10 RTD brand in the UK with a flurry of trademark activity.
The US hard seltzer maker has applied to register the names Refrshr, Surf and Surge with the Intellectual Property Office, under classes covering alcoholic drinks.
Ranges with each of the three names already exist internationally.
White Claw unveiled Surge, a boozier 8% abv spin-off of its core hard seltzer, in the US in 2021.
Surge then launched in Canada and Australia at the end of 2022, with strengths of 7% abv and 6.5% abv in the respective countries.
In March 2022, premium seltzer Surf made its US debut.
Finally, White Claw added boozy lemonade spin-off Refrshr (5% abv) in the US in May 2022.
However, Brits may have to wait for a taste of the new White Claw lines. The brand had no immediate plans for NPD, UK marketing director Michael Dean told The Grocer. Innovation was not yet the priority for the business, which still had "quite low awareness" among UK consumers.
"We've got a lot of work to do in education and making sure that consumers know the benefits of the product," Dean added, pointing to White Claw's low calorie content and vegan and gluten-free claims.
Over the coming year, the brand would focus on boosting distribution in a bid to become "one of the top 10 RTDs", he said.
Having made its UK debut in 2020, White Claw is hard seltzer's leader with a 53% share of the country's market £14.7m [Circana 52 w/e 31 March 2023].