The beer category continues to fascinate. An area where own label has yet to really exert a massive impact, we are still seeing something of a seismic shift as the major multinational brands are buffeted by nimbler craft breweries. With a growing global demand for craft beer, often with a focus on local brews, supermarkets are having to shift their approach somewhat: still accommodating the mass market major brands while accounting for the incredibly fragmented craft sector.
Against this backdrop, supermarkets are also addressing other opportunities such as refillable containers and instore consumption. The category is therefore a lot more complex than it used to be - gone are the days of simply loading shelves up with multipacks of mainstream brands. Instead, a more nuanced approach is taking shape, with retailers having to augment their old transactional approach to the category with more sophisticated strategies designed to cater to the proliferation of new brands, pack sizes and variants.
In the fifth instalment of his series on excellence in in-store merchandising, Tcc Global insight director Bryan Roberts takes a look at a number of noteworthy approaches to the category from around the world, and shopper marketing within it, from retailers and breweries both large and small.
Continente (Portugal)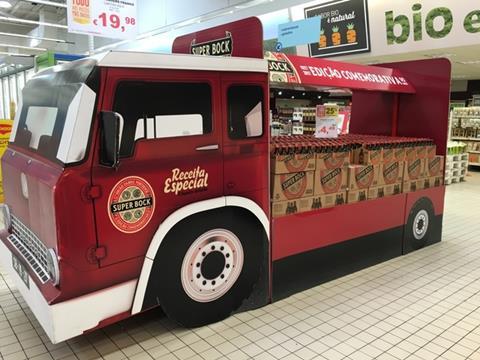 As craft beer growth continues to be fuelled by a quest for 'authenticity', a number of bigger brands are keen to remind shoppers that they have a longstanding heritage and local identity. This example, seen in a Continente hypermarket, sees Super Bock celebrate 90 years of brewing in Portugal with a special recipe beer housed in a truck.
Eataly (Italy)
With microbreweries and craft beers setting the category alight, nothing says authenticity like having your own instore brewery. By brewing its own beers on-site, Eataly in Rome is able to top off a fantastic range that has hundreds of Italian beers as well as brands from all around the world.
Harmons Grocery (USA)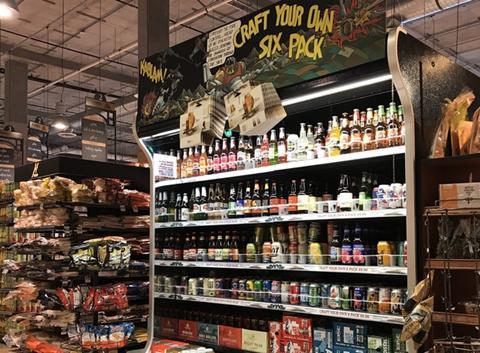 Common in mainland Europe and North America, it might be considered a bit of a puzzle why so few UK retailers have adopted the 'create your own six pack' approach. By offering cardboard beer carriers alongside a chiller full of different cans and bottles, shoppers in Harmons Grocery in the USA can walk off with a great variety of product for a fixed multibuy price.
Konzum (Croatia)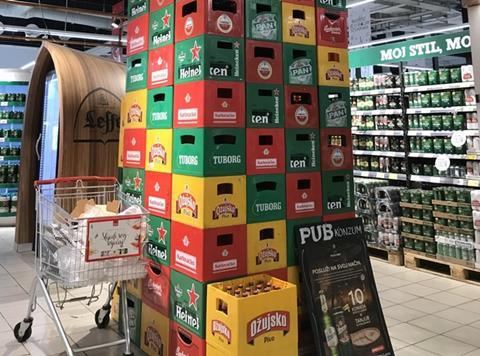 Konzum in Croatia has chosen beer to be one of its hero categories. In larger stores it operates the Konzum Pub – a fantastic beer department that boasts great retail theatre in addition to many branded displays.
Lowes Foods (USA)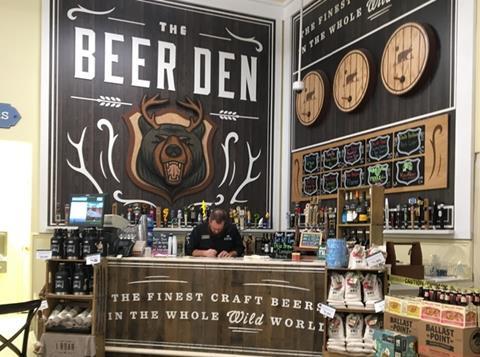 Innovative regional supermarket Lowes Foods in the USA has a number of signature departments including the Beer Den. With a huge range of beers, often small batch brews created in collaboration with local breweries, shoppers can also use the Beer Den to fill growlers from the taps as well as sampling one or two in the adjacent seating area.
O'Key (Russia)
In a similar vein, customers at O'Key in Russia can fill reusable containers to pour and take away their chosen refreshment. This ticks two main boxes: experiential retail and minimising waste. What's not to like?
Morrisons (UK)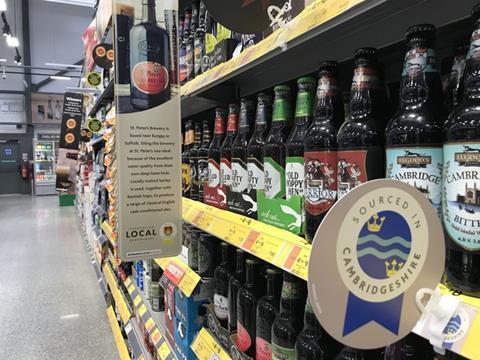 Localness is becoming a key attribute in food and drink in general, and beer is no exception. The superlative Morrisons in St. Ives does a great job of signposting local products throughout the store and in beer in particular: a plethora of POS highlighting beers made in Suffolk and Cambridgeshire.
Pingo Doce (Portugal)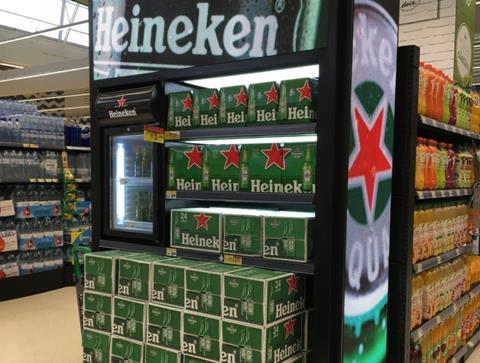 Pingo Doce in Portugal has the greatest array of branded end-caps we have ever seen in one store, and this is carried through into beer. The Heineken end is great: multipacks with a strong promotional price; a chiller for single units and the deployment of eye-catching digital signage.
Jempson's (UK)
While digital is great, sometimes analogue can be just as effective. We were really taken with the beer section at Jempson's in Peasmarsh. With a stunning rage of local product as well as bigger national brands, the use of old-fashioned wooden fixtures, crates and blackboards made for a compelling proposition. Cheers!