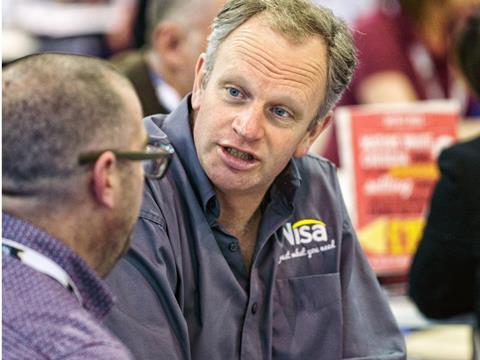 Nisa CEO Nick Read stepped down this week after three of the most turbulent years in the buying group's history, and that is saying something given that Nisa has not been short of excitement over the last 40 years. With the Co-op's offer, which he was instrumental in delivering, set to be tabled to members next week, we look back at the ups and downs of the Nick Read era.

Year one - 2015: Read was officially named CEO in January to replace Neil Turton, who had been at Nisa for 23 years and CEO since 2007. Even as he arrived, the group was reeling from the impact of losing its biggest member Costcutter the previous summer. Read joined in February, the same month Nisa wrote to members to tell them it had launched a three-point plan to "deliver vital cost savings and longer-term operational efficiencies".

In April, Read who had worked under the now current Morrisons CEO David Potts, during his time when they were at Tesco, took a leaf out of his mentor's book by ringing the changes to revamp his senior team with FD Simon Webster, IT boss Wayne Swallows and format & development director Raj Krishan all leaving as he looked to address poor trading. At the annual trade show in Stoneleigh, Read launched a member survey, the result of which he said would underpin its strategy for the next three years. However the focus on both the board and members was soon to be overtaken by events that would effectively shape the rest of Read's tenure at Nisa.

In June, Nisa reported a £3m loss for the year to April 2015, the first time its accounts had slipped into the red. Overall turnover fell from £1.6bn to £1.4bn as the group admitted it had been over-optimistic in its belief it would claw back 25% of the Costcutter business. At the time it claimed to have won back 18%. Read also admitted some suppliers had begun holding back stock from Nisa, which had led to availability issues.

While the loss effectively pre-dated Read's arrival at Nisa, it was his rescue plan opened divisions with a very vocal section of the membership and himself. Following an emergency board meeting, Read wrote to members in July explaining that "current trading has deteriorated in June after a solid start to the quarter" and that as a result of this this Nisa "most take decisive action now to get it back on track".Three key changes were introduced: realigning prices while maintaining a competitive position, reducing selected member rebates by 50% until the end of the financial year, and reducing the subsidy for leaflets by 50%.

By and large the membership accepted the proposals as a necessary evil, but these sacrifices were never really forgotten, particularly as Nisa stabilised itself financially and bonuses started to be issued in Scunthorpe.

The trading crisis also meant proposals put forward by Lord Myners regarding changes to corporate governance were delayed. The vote was originally scheduled for July but took place at the agm in November. The proposals were similar to those the peer had put in place for the Co-op following its own crisis. Myners had called for a one-member, one-vote system and removing the member majority on the board. But these did not end up being put to the vote. And the one key proposal that was voted on - to change the articles of association to increase the level of support a bidder would need to take over Nisa from 50% to 75% - did not receive the necessary 75% backing.
While the loss effectively pre-dated Read's arrival at Nisa, it was his rescue plan opened divisions with a very vocal section of the membership and himself
At the end of 2015, trading was improving and Nisa indicated it was on track to reverse the loss and hit its £7.2m EBITDA target. It also won the race to supply the hottest retail property going - My Local, a deal expected to be worth £1bn to Nisa over five years and considered a coup at the time for Read and his team as the Mike Greene-led vehicle that took over Morrisons' c-store arm would have been high on the wish lists of all Nisa's competitors. Of course My Local didn't turn out to be the a golden goose that Nisa had hoped, but 2015 certainly looked to have ended with Nisa ended 2015 in a stronger position than it started the year.

Year two - 2016: The Nisa year started quietly enough until In February, Nisa announced it was serving notice on one of its most high-profile members - the 31-strong North East Convenience Stores chain. Nisa had previously warned that it would kick-out non-compliant members who were not contributing fully to the profitability of the group as a whole. Nisa believed that NECS was cherry-picking its deals and sourcing too much from other suppliers, however NECS argued that it was unable to achieve its growth plans within Nisa. NECS would later sell up to Spar wholesaler James Hall in July.

That summer, a year on from the loss announcement, Nisa did indeed return to growth. Read hailed a transformational year as it, beat its profit target to report EBITDA of £7.3m. But My Local collapsed, and it later emerged it owed Nisa £8m.

Once again the second half of the year had its ups and downs. September saw the emergence of the Mutual Shopkeepers - a group of 80 Nisa members. It began sending emails to the wider membership challenging the actions of Read and in particular chairman Christopher Baker.

Baker decided not to stand for re-election and in October the Mutual Shopkeepers accused the management of scaremongering the previous year when it had held back member rebates. They claimed management was motivated by triggering bonuses rather than keeping the business afloat. At the time, £2.2m of bonuses related to the turnaround were shared out among 280 Nisa employees. Of the bonuses, £292,000 went to Read. Nisa of course denied the accusations and maintained that hitting the £7.2m profit target was vital in re-establishing trust with its lenders and the bonuses were a natural by-product of hitting the target. These bonuses would hang like a millstone around Read's neck for the rest of his time in charge and were constantly harked back to as the jumping off point for all the anti-management sentiment expressed by members.

Also in October The Grocer revealed Nisa had been forced to delay a payment of around £8.5m to logistics provider DHL as a result of cashflow issues, but in November, things were looking up once again as Nisa won another the major contract.

This time it was to supply the 298 stores McColl's had just bought from the Co-op. This deal not only dwarfed the My Local contract but looked like going some of the way to filling the hole left by Costcutter.

Year three - 2017: The bombshell was dropped on a Friday morning in January - Tesco was buying Booker for £3.7bn. As a result, everyone was now trying to get their hands on a piece of convenience, or simply secure their continued existence in it.

As for Nisa, it was The Grocer that first flagged that the Co-op could be considering a deal that brought together both Nisa and Costcutter, and indeed this is now looking like a good bet.

But of course as is often the case with Nisa, there has been a few twists and turns already.

First it was revealed in June that it had appointed Lazard to deal with a number of approaches. These turned out to be a £130m bid from Sainsbury's and an offer closer to £140m from the Co-op. At the same time, Nisa completed a new £120m refinancing deal, on significantly better terms, with a longer repayment arrangement, it said, than the one it had arranged two years earlier when Nisa was in crisis. It heralded the turnaround driven by Read and CFO Brown as the reason it was able to secure such a favourable new deal.

In June, the reasons for Nisa's need to secure a major consolidation play became glaringly obvious as, despite further strong improvements in EBITDA and a return to pre-tax profit, Nisa's turnover fell 2.6% to £1,252m following the loss of My Local.

Nisa was dealt an even bigger blow in August when McColl's announced it was planning to switch its entire supply to Morrisons.

A week later, Sainsbury's, which by that point had been in exclusive talks with Nisa, cooled its interest, as the Co-op came back to the table with a new offer. The original Co-op bid having been conditional on Nisa retaining the McColl's contract. The Co-op currently remains in a period of exclusivity. It is not thought Read's departure will affect that deal in any way.

This takes us up to date, except for the final row with members last month that again related to payments made to Nisa employees. It is understood 13 employees received retention payments that totalled c£200,000. Anger was once again directed at Nisa management, even though neither Read nor Brown received any payments and are not members of the remuneration committee.

The row is simply the latest example of Read's fractious relationship with some Nisa members. He clearly was not going to stay for the long term and saw the potential sale of the business as his time to go. However as any deal process is likely to drag on for several months even before the Competition & Markets Authority has a look, Read who has not relocated from the south of England has clearly decided now is as good a time as any to go.

Many members on internet forums have expressed their joy at his departure, and it is now up to them to decide what the future of Nisa will be. The grocery world has changed rapidly in the last few years and it very different to when Nisa came into being 40 years and one way or another Nisa will have to change if it is to prosper for the good of its members.