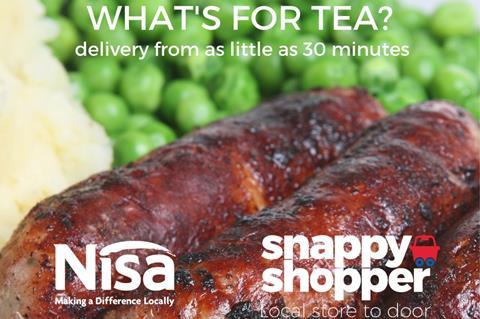 Snappy Shopper is aiming to recruit as many as 500 Nisa retailers by the end of the year.
The online grocery platform has so far signed up over 50 retailers in the four months it has been working with Nisa.
Average basket size for orders via the app tend to be between £25 and £35 but some retailers are taking orders of up to £150. Some retailers are also reporting the app is driving incremental growth and even bringing new shoppers into their stores for the first time.
"Our delivery numbers are growing steadily, and in-store sales have increased since we launched the service," said Benedict Selvaratnam, owner of The Wine Cellar, Nisa Local in Croydon. "We're seeing new faces in the store who are coming in to see what we have once they have used us on Snappy Shopper.
"We're also seeing a lot of repeat custom on the app with the same names coming back every week. They are loyal and sustainable, and the sales are steady, with average basket spend of about £25, although we also have some unique customers who spend upwards of £100 on each delivery."
Harry Ahmed, owner of Nisa Local in Greenock, added: "Initially I was worried the online sales would have a negative impact on sales in the shop but if anything, it has had the opposite effect, with sales up.
"We get people ordering twice and even three times a day and it was clearly a much-needed service in our area.
"I really think this is the future. You have to look ahead and as more and more businesses are going online, we have to have that offer too."
Snappy Shopper head of group development Andy Batt said: "As demand on our platform has grown throughout the pandemic, shoppers realise the value of local convenience stores and our home delivery app is playing a huge part in that.
"It is great to have the opportunity to work with Nisa and support them with their development of home delivery."
Snappy Shopper is now available in 650 stores across Scotland, England, Wales and Northern Ireland.