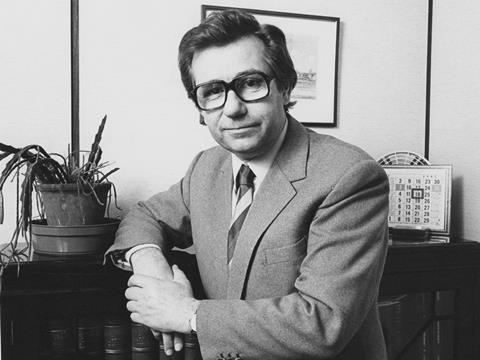 Tony de Angeli, who was editor of The Grocer for over 20 years, has died after a short illness. He was 87.
De Angeli was best known for his regular Thursday slot on the Jimmy Young show on BBC Radio 2, featuring on the show from 1973 until 2002 – some 13 years after he stepped down as editor in 1989.
He started featuring on the show after a BBC journalist contacted The Grocer for an explanation about why food prices were rising. De Angeli used the slot to respond weekly to listeners' letters, enquiring about anything from the excessive price of dover sole to the safety of eating bread a week after purchase. Every query was painstakingly researched.
He would also explain the workings of the industry, and scrutinise national newspaper stories, in order to expose instances where the industry had been misunderstood or was misrepresented.
"The nationals used to run stories that were ridiculous," said Clive Beddall, who succeeded de Angeli as editor. "They would get hammered. And he would explain the context and help to paint the industry in a better light."
In the process, he gained The Grocer readers beyond the trade, with consumers helping to boost circulation to well over 60,000.
In a journalism career spanning 40 years, de Angeli started as a reporter at the West London Chronicle, a Fleet Street features firm, where one of his roles was to compile crosswords. He also worked for Reuters, before moving to The Grocer.
Starting on the news desk in the 1960s, he worked his way up the ranks to assistant editor, editor, and eventually editorial director of William Reed, The Grocer's parent company.
As editor, he was never afraid to ruffle feathers in covering the stories he felt The Grocer should.
"If the facts were there, it didn't matter that a company might be aggrieved," said Mervyn Gilbert, who worked with de Angeli for 20 years as The Grocer's industry editor and cash & carry editor. "Tony was forthright in his views. The stories would be carried."
He was a "tough cookie," said Beddall, "persistent in his pursuit of a story, and fearless".
He also liked to get involved. On a trip to the German trade show Anuga he led the British delegation on to the Argentina stand at the time of the conflict in 1982 and "started quizzing them about trade. He didn't give a toss," Beddall recalls.
And at Sial in Paris one year, when the show was delayed due to a French farmers' strike, "he waded straight in and told the farmers what he thought of them, in French, with no notes".
"He was first and foremost a journalist," said Beddall, citing an instance when, at a trade association event in Berlin, he was informed that the Berlin Wall was being knocked down. "He declared the meeting over, saying it was his duty to report on history and immediately rushed down to the wall. He quizzed sentry guards and was surprised to discover that they spoke fluent English."
But de Angeli is also remembered for a charisma that helped him win and retain friends.
"He made a lot of good friends among the leaders of the food industry," said Laurence Reed, who worked alongside de Angeli as William Reed's managing director. "He had the gift of the gab, which helped."
He was also fair: as keen to give coverage to small retailers as large, according to Gilbert.
"He had the ear of the multiples but he built contacts round the rest of the trade too and treated them equally," said Beddall.
De Angeli won a publishing industry award as Magazine Editor of the Year in 1971, and gained an OBE in 1996.
As editorial director, he went on to be responsible for William Reed's entire stable of magazines, including Off Licence News, Convenience Store and Forecourt Trader.
"We worked together closely on the growth of the business and he certainly was influential in its success," said Reed.
De Angeli also held senior positions with the IGD and was food ministry chairman of a task force leading to the publication of 'The Health of the Nation' white paper in 1992.
Tony de Angeli (1931-2019) died on Sunday 10 February. He is survived by his wife, Susan, two sons, Mark and Julian, and grandchildren. His funeral is to be held at St Andrew's Church in Alfriston, East Sussex, at a date to be set.