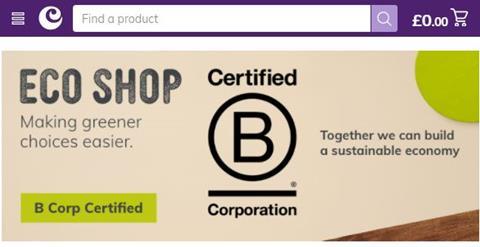 Ocado has launched a dedicated section of its website for B Corp-certified brands.
It features more than 1,100 products from some 35 brands that have been assessed by certifier B Lab as meeting "the highest standards of verified social and environmental performance, public transparency, and legal accountability to balance profit and purpose".
The 'aisle' sits within Ocado's Eco Shop - which launched in July last year - and features products from brands including Ella's Kitchen, Innocent, Method, Charlie Bigham's, Pip & Nut, Teapigs, Proper, Alpro, Ben & Jerry's and Cheeky Panda.
Ocado follows Waitrose in establishing a B Corp aisle. Its former retail partner Waitrose – until Ocado's switchover to M&S in September last year – set up its B Corp aisle in early 2019 featuring many of the same brands.
Ocado's offering "dwarfs collections from other grocery retailers" the company said, and "has already attracted significant interest as customers look to make greener choices".
"Our B Corp aisle is a really positive step for both our customers and our sustainability efforts. We're delighted to be making greener choices easier for Ocado customers by gathering all these amazing brands that have made a commitment to building a more sustainable future, in one easy-to-find place," said Jo West, head of sustainability at Ocado Retail.
Ocado itself is not a B Corp company, it confirmed, but said the new online aisle was part of its "wider commitment to sustainability".
Speaking at the City Food Lecture last week, Ocado Retail CEO Mel Smith said: "We are the most sustainable grocer in the UK, with almost 0% food waste."
Thanks to its short supply chain, Ocado says only 0.04% of its food is wasted. The company pointed to Ocado Zoom's recent trial of electric-assisted vehicles as proof of its environmental aims, and its stated ambition to be carbon net zero by 2040.