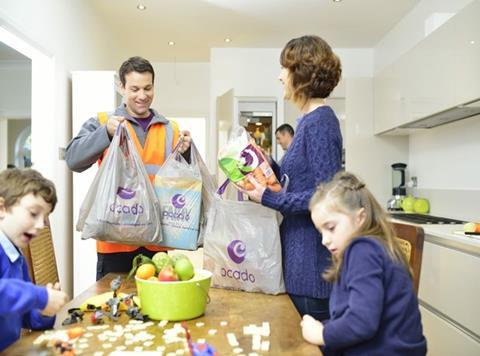 Ocado is to relaunch its plastic bag recycling scheme on 22 September.
The online specialist will restart the initiative to collect shoppers' plastic bags the day after the government reintroduces its mandatory 5p per bag charge across England.
Ocado usually charges customers 5p per bag used to pack their shopping, before refunding 5p for each bag customers hand over to its delivery drivers for recycling.
It followed government guidance to not charge customers for any bags used to deliver their shopping since 21 March due to the coronavirus pandemic.
Ocado is encouraging its customers to retain any plastic bags they have accumulated over the lockdown period ready for the restart of its recycling initiative. It is also currently investigating alternatives to plastic bags, but said they are currently "the best option for packing shopping in our highly-automated warehouses".
An Ocado spokeswoman said: "We haven't been charging for plastic bags since 21 March. Following advice, we temporarily paused our plastic bag recycling scheme. We hope to restart it on 22 September, when charging for bags should restart too."
Read more:
Waitrose reintroduced its own scheme on 17 August.
This week Ocado parted ways with Waitrose as it kicked off its new partnership with M&S. The first Ocado deliveries to include M&S products took place on Tuesday, although the launch was impacted by some teething troubles.
A number of customers complained their deliveries had been cancelled at the last minute. Ocado told The Grocer the problems were caused by customers editing their orders prior to delivery. Normally, Ocado shoppers can do this up to 48 hours before their shopping is due, however the number of customers adding M&S items to their baskets created a "surge in demand".
An Ocado spokeswoman insisted the hitches related to a "very small number" out of around 50,000 orders it fulfils each day, adding that the "vast majority" of deliveries did take place and the problems should now be rectified.
The hitch impacted customers' ability to reorder too, with several taking to social media to complain there was no capacity to do so for around a week.
The online retailer has also halted deliveries for its staff to free up space for customers' orders.
"The M&S launch has been incredibly popular. To help minimise the impact of the surge in demand on our customers, the deliveries for Ocado colleagues were paused for the first few days," an Ocado spokeswoman said. "We are very grateful to everyone at Ocado for how understanding they have been about our decision to prioritise customer deliveries, and also for the heroic efforts everyone has made over the past few months."