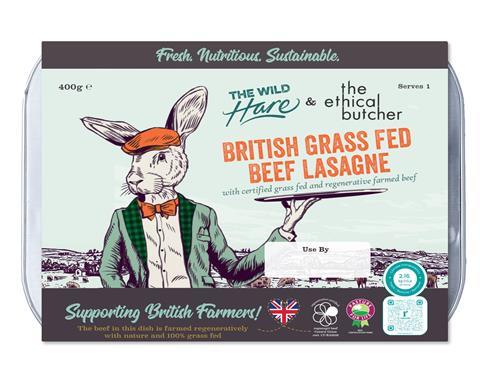 Sustainable ready meal brand Wild Hare has secured a five-product listing with Ocado, which will see its carbon neutral meals being delivered across the UK.
Wild Hare, which has conducted a cradle-to-grave life-cycle assessment to calculate the emissions of its entire product range, and shares the results via an on-pack QR code, said the deal was significant for consumers seeking sustainable products.
Ocado is committed to being the UK's most sustainable grocer. In November it claimed it would be the first supermarket in the world to run a net zero carbon head office. The retailer is seeking to be net zero as a business by 2040.
Ocado.com now stocks five Wild Hare ready meals — British Red Wine Braised Chuck Steak with Buttered Mash, Cauliflower & Chickpea Dhal, British Chicken Dhal, British Chicken Caesar Risotto and a Lasagne dish made with Regenagri-certified beef, in partnership with regenerative agriculture supplier The Ethical Butcher.
"Partnering with Ocado is a huge milestone for Wild Hare and its ambitious climate targets only amplify how delighted we are that one of the UK's leading online retailers will be delivering our meals," said Dominie Fearn, founder of The Wild Hare Group.
"We made some significant strides in 2021 — with our latest being carbon neutrality as we seek to encourage climate action through convenience food. Our next step is to encourage more and more people to engage with our products and what better platform than the UK's largest online supermarket?"
Ocado is the biggest retailer to list Wild Hare to date. The brand – whose meals are cooked fresh every week using produce from high-welfare British farms – is stocked by rapid delivery company Getir, as well as Whole Foods Market, Selfridges London and a handful of specialist retailers.
"Carbon-conscious brands like Wild Hare represent a greener future for the industry and by supporting these types of brands, we are able to help fulfil our own ambitious environmental objectives at Ocado Retail," said Lucy Hamblion, buying manager at Ocado Retail. "We can't wait to hear what our customers think about this excellent range and look forward to helping build a more sustainable future with Wild Hare."