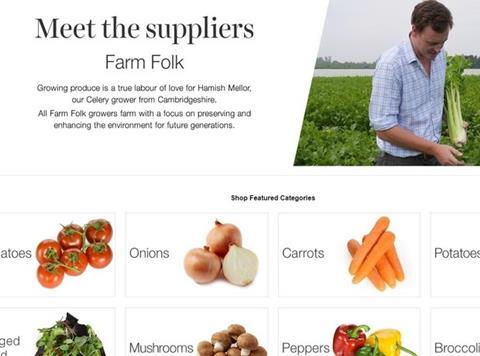 Amazon has today pulled the trigger on its hotly anticipated Amazon Fresh online grocery service in the UK. Previously only available in the US, the service – under the slogan 'Your weekly shop. Your Way' – offers 130,000 fresh, ambient and frozen 130,000 products.
Here's our quick guide to what's on offer.
Thousands of Morrisons own-label lines and major brands
Scale at launch was always going to be one of Amazon Fresh's biggest challenges, and with a starting line-up of 130,000 products it looks like it's a challenge it's met head-on. Through its partnership with Morrisons, revealed earlier this year, it's got core grocery covered at price points shoppers are used to (a four-pinter of own-label milk through Amazon Fresh is 95p just as it is through Morrisons); plus big-ticket mainstream brands a British shopper would expect to see in a supermarket (think Coca-Cola etc), give the service credibility.
To what extent the huge Amazon product line-up will appeal to shoppers doing their weekly grocery shop, however, remains to be seen. The major grocers are realising that scale alone doesn't make for an enticing shopping experience, and range rationalisation – not expansion – is the order of the day. Meanwhile, smaller services – like recipe and meal delivery start-ups Hello Fresh and Gousto – are going great guns on the strength of their ability to make smart choices and curate items on behalf of customers. Amazon is clearly well set up to be smart with data, shopping lists and filtering – how it manages discoverability across its grocery range will be fascinating to see.
It's also worth noting product numbers can be deceptive. Take the pizzas section in Amazon Fresh's ready meals offering: there are 57 products listed, with five Pizza Express lines listed right at the start and three Morrisons lines also on offer, but after that things get a little more sketchy. Chocolate pizzas, pizza bases, and pizza-style crackers and snacks make up the remaining listings, with the website currently displaying significantly fewer items than the 57 products promised.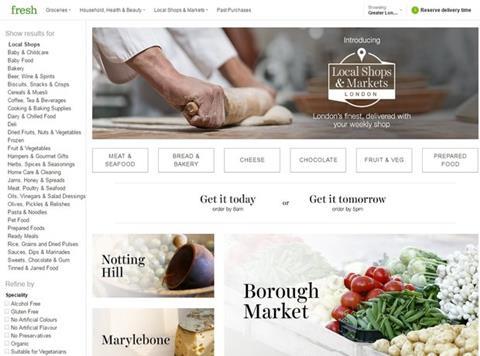 The best of local shops and markets
A stand-out feature of the new Amazon Fresh offering and potentially a real differentiator. A dedicated "local markets" section of the website offers delicacies and artisanal fare from Borough Market and other London markets without the hassle of having to get up at the crack of dawn or endure the madness of the crowds on a Saturday. Products on offer include Manchego from Brindisa and cakes from Gail's Bakery. By offering artisanal fare as well as mainstream grocery brands, Amazon proves it's after the business of start-ups like Hubbub as much as that of the major mults.
Veg boxes
Amazon's ambitions clearly don't end there. Its new Fresh line-up also includes a range of 14 veg boxes from suppliers such as Chegworth Valley, Turnips and Watts Farms.
Freshness guarantee
Fresh food can be notoriously tricky to sell online – many consumers like being able to touch and inspect fresh items themselves and can struggle to trust an online provider to pick produce on their behalf. Given its reputation as a logistics company first and foremost, that's potentially a particularly tough challenge for Amazon so it's no surprise to see plenty of messages around freshness and quality, including a 'freshness guarantee' and the assurance that items as "hand-selected". "If any item doesn't arrive fresh, simply contact us for a refund," the website promises. Amazon is following the lead of the major mults in this area, which already offer guarantees on freshness and minimum shelf lives. It's not obvious that it's doing anything particularly new innovative on online freshness.
Featured suppliers
Tied in with its big push on fresh credentials and local suppliers, Amazon is showcasing some of the suppliers behind the products it sells. The look and feel here is similar to the supplier profiles on the websites of Aldi and Lidl, and the focus is on topline messages more than detailed sourcing information. Suppliers highlighted so far include Tim's Dairy and Anglia Free Range Eggs.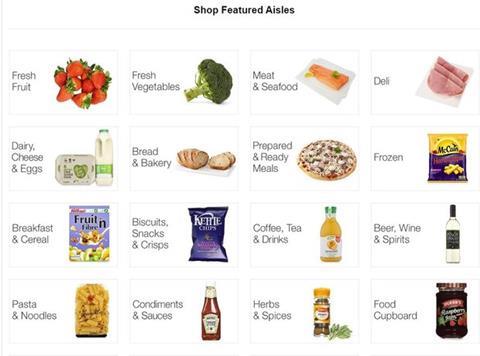 Price promise
"Products you love at prices you can trust" is what Amazon promises on the Fresh website, plus an assurance it will check prices regularly against its competitors. There's not much more in the way of consumer-facing information, but in a briefing on the launch of Amazon Fresh, the online giant made a point of highlighting The Grocer 33 as a key reference point.
Dedicated brand sections
The ability to tell a brand story and create dedicated branded spaces has long been one of the aspects of Amazon's platform that really appeals to brand owners. Rather than just appearing in an uninspired list as one of many product options, brands have greater breathing space on Amazon than on most other retailer websites to create 'brand experiences', and this approach is clearly going to be a feature of the new Fresh service too. Brands that appear to have chosen this option so far include Philadelphia: a box on the Fresh homepage promises "share a heavenly lunch", which – when clicked – sends users to a list of Philadelphia cheese products. Though in its infancy on Fresh at the moment, branded sections on Amazon are likely to add pressure on grocers to step up what they are able to offer brand owners.
Free 30-day trial and same-day delivery
Use of Amazon Fresh requires a monthly subscription, priced at £6.99, which includes unlimited free deliveries on orders over £40. To drive uptake, Amazon is using the fairly standard mechanism of offering a 30-day free trial. Where Amazon Fresh has the potential to really set new consumer expectations is around delivery, particularly around speed. It's offering same-day delivery and the ability to book in one-hour slots, plus its Pantry and Prime Now services offer super-speedy delivery on core grocery items.