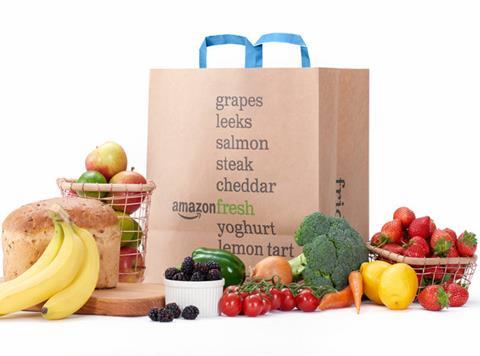 If there is one company guaranteed to present food retailers with a sense of foreboding, it is Amazon. Since it started pursuing the UK grocery market in earnest in 2015 (and particularly since it launched its Fresh proposition last year), its every move has provoked prophecies of doom for the big four.
So news that the Amazon Fresh service is expanding beyond its London testing ground – spreading its tentacles as far as Basingstoke – is sure to make some go weak at the knees. Could this be the start of the dreaded Amazonisation of the grocery market? Should Dave Lewis and his ilk be hiding away in an Amazon-proof bunker somewhere?
In short, the answer is no. As many analysts have tried to hammer home, Amazon's entry into the grocery market is likely to be less of a nuclear bombshell and more of a slow, stealth attack. This much is evident by the speed of its launch. Yes, Amazon has tripled geographical coverage of its Fresh service since its launch last summer. But we have to remember the service started out on a miniscule test bed of 69 London postcodes. And we still don't know take-up numbers for this service, which requires the fairly sizeable commitment of a £79 annual Prime subscription plus a £6.99 monthly fee. Amazon simply says customer feedback has been "positive".
However positive the response has been, it is unlikely to trigger a rapid nationwide rollout. Historically, Amazon is a company that likes to test its propositions thoroughly before launching them at scale. The US giant may be a risk-taker in terms of its approach to failure – CEO Jeff Bezos famously described failed experiments and successful inventions as "inseparable twins" – but it likes to run these risky experiments on a cautious scale. Just look at the rollout of Amazon Fresh in the US – it started testing in 2007 and, 10 years later, the service is still only available in pockets of the country.
The same goes for checkout-free store Amazon Go, which hit the headlines earlier this week amid reports of a UK rollout. The Grocer understands senior figures at Amazon were bemused by commentary suggesting plans for a swathe of openings when the concept is still in beta testing in Seattle. Amazon may have its eye on potential locations, but it certainly won't commit to the store until it has been tested – and crucially, proven to work – in real life.
So Amazon is unlikely to take a large share of the grocery market for some while yet. That's not to say it never will – it would be foolish to underestimate Amazon, and the further rollout of Fresh indicates that it sees potential in grocery. But for now, Dave Lewis won't have any need for that Amazon-proof bunker.