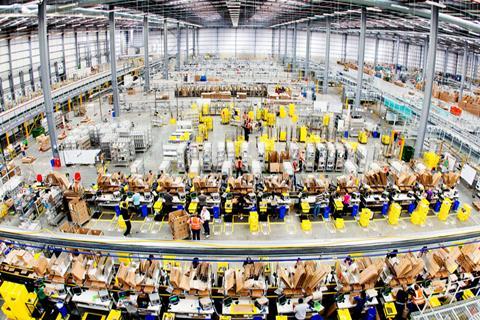 Amazon is to open four new warehouses this July and August in a rapid scale-up of its UK fulfilment centre network, which currently numbers 17.

The first is set to open in Bristol on 1 July while the other three, in Derby, Chesterfield and Rugby, are all due to begin operating on 5 August.

Over the past two years, Amazon has revealed each is on the way separately but had not announced opening dates, which came to light in an email from the company to vendors today.

The Bristol facility was the first to be announced, as long ago as August 2017, in a statement that said it would open during 2018.

The latest announcement came only yesterday, of the new facility in Kegworth, near Derby, with the promise of 500 new jobs this year.

The new warehouses will create 2,100 jobs in total, bringing Amazon's UK workforce to near 30,000. The Bristol facility will create 1,000 jobs, the Rugby site 400 and the warehouse in Chesterfield, Derbyshire, 200 jobs.

The Kegworth warehouse has the capacity for further workforce expansion, to over 1,000.

Amazon said the facility would 'help meet growing customer demand, further increase its product selection and support more third-party sellers under its Fulfilment by Amazon programme'.

"We are thrilled to begin recruitment for 500 new permanent roles in Kegworth, with competitive wages and comprehensive benefits starting on day one," said Amazon vice president of UK customer fulfilment, Stefano Perego.

Pay starts at £9.50 an hour.
The Kegworth warehouse is in the East Midlands Gateway Logistics Park. The Bristol site is in Severn Beach and the Rugby one in Rugby Gateway industrial park. The Chesterfield facility is actually in Barlborough, about nine miles from Chesterfield.

Amazon's email, to a food vendor, said: 'We're contacting you regarding the following fulfilment centre openings… The following fulfilment centres will be able to receive deliveries after the following dates,' followed by a list of the sites with addresses.

An Amazon spokesman said: "Amazon plans new buildings many months, and sometimes even years, in advance. There are many factors that can affect a launch date, such as making better use of existing sites or construction delays. We remain committed to investing in our fulfillment centre network to meet increasing customer demand, expand selection and enable SMEs selling on Amazon to scale their businesses."

The Grocer reported last month that Amazon was advertising for area managers across the UK for its Amazon Fresh same-day grocery delivery service, suggesting an intention to grow it. The service is currently only available in and around London.

The opening dates of the four new warehouses emerge on the day Amazon posted record profits for the first quarter of 2019, while announcing plans to spend $800m cutting delivery times for Prime members.

Profits hit $3.6bn, making it Amazon's fourth record quarter in a row, up from £3bn in quarter four of 2018.

Amazon chief financial officer Brian Olsavsky said the standard delivery time for Prime members would be cut from two days to one day in a global move that would begin in the US. Prime delivery, which is free with a subscription, is already a one-day service in some countries, including the UK.