From quinoa to cacao, nut butter to coyo - our expert personal shoppers will hand-select your items, while our speedy Quiqees deliver it all right to you."
That's how delivery start-up Quiqup told the world about its exclusive new partnership with Whole Foods Market in London last month.
The service - initially trialled with two stores - is now being rolled out to seven of the upmarket grocer's London stores, promising to deliver 40,000 grocery, beauty and household items to customers' doors within as little as an hour.
The service in numbers
1 hour delivery
£4.50 minimum charge
700 Quiqup drivers
7 Whole Foods Market stores
The launch comes at a time when online grocery delivery is becoming an increasingly crowded space. There's the UK launch of Amazon Fresh, of course, but also Sainsbury's pilot of Chop Chop - a new one-hour delivery service offered in Wandsworth, London - as well as a growing number of smaller providers such as Hubbub that are offering new ways to buy groceries online.
So what does Whole Foods' venture with Quiqup tell us about the changing face of UK online grocery? And what potential does the service have?
One of the most compelling aspects of Quiqup is that it allows retailers to offer online services without the need to invest in any online infrastructure themselves - there's no need to have a fleet of delivery vehicles or drivers (Quiqup uses self-employed drivers), and not even an e-commerce site.
Similar to the services Just Eat and Deliveroo offer for restaurants and takeaways already, Quiqup takes care of orders from start to finish. Whole Foods customers order online via the Quiqup app or wholefoods.london, which then directs to a Quiqup-operated site; Quiqup shoppers pick the orders in-store and then deliver them.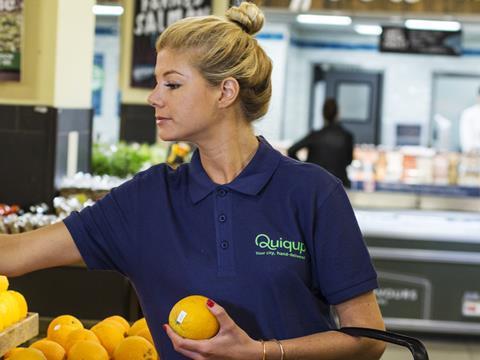 No heavy investment

Given Whole Foods' relatively limited presence in the UK (it currently has a total of seven stores in London), it's not difficult to see why such an arrangement makes more sense than heavyweight investment in a standalone online setup.

Whole Foods is convinced the partnership makes sense from a customer point of view, too. A trial run of the service at two stores earlier this year proved highly popular, with a "steady stream of online orders", the retailer says. And Quiqup CEO Bassel El Koussa adds the trial went "really well".

The big question now is whether the service can scale up sufficiently - and if it can compete with the growing number of other online grocery services available. The Whole Foods/Quiqup partnership is relatively competitive on delivery charges, which start at £4.50 for an express slot compared with £6.99 for Amazon Prime Now, but when major grocers offer next-day delivery for as little as £1 it may be tough to persuade shoppers they really need to pay extra.

But El Koussa is confident consumers will pay for the convenience of having groceries delivered within an hour of ordering. "One of the pains of buying groceries online today is the time slots and having to wait for the delivery. People want delivery exactly when they will be free," he argues. Logistics expert David Jinks of ParcelHero agrees. "People value deliveries when they want and they're prepared to pay ­reasonable money for that."

As for wider potential, Adib Bamieh, COO of delivery service at Quiqup rival Henchman, believes smaller retailers in particular will be paying close attention to the model adopted by Whole Foods.

He cites its partnership with high-end butcher The Ginger Pig, which has limited outlets in London, as an example of the potential these new kinds of partnerships open up. "The Ginger Pig has exceptional quality food but it is a bit of a trek to get to," he says. "But now they have access to all of zones one and two."