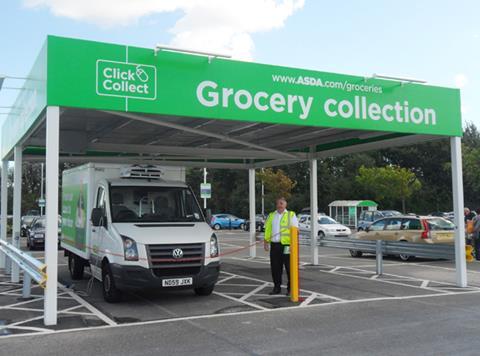 Asda is expanding its push into London and the South East with a new breed of 'intelligent' click & collect pods.
The temperature-controlled, standalone units are based on technology developed in Holland, and promise a collection time of just 60 seconds, according Asda.
The retailer said it was currently looking to secure appropriate sites, with a focus on the South East. The pods will roll out from 2015.
"Our existing Grocery Home Shopping offer is already growing at more than 20% year on year and this exciting new click & collect technology will allow us to bring Asda value to even more customers – particularly in London and the South East," said Asda CEO and president Andy Clarke.
The click & collect pods will be used to store both general merchandise and fresh food orders. They have been designed by Dutch entrepreneurs Peter Pompen and Henk Niemansverdriet.
"It's a unique system that is flexible, sustainable and reliable so that all goods remain super fresh," said Niemansverdriet. "We're pleased we can be working with such a forward-thinking company which has customers at its heart."
Asda has been ramping up investment in its online offer; as part of a five-year plan unveiled in November last year, it said it would expand click & collect instead of building convenience stores.
Earlier this month it revealed plans to extend click & collect to six more London Underground station car parks, having been the first retailer to introduce collections lockers on the Tube last year.