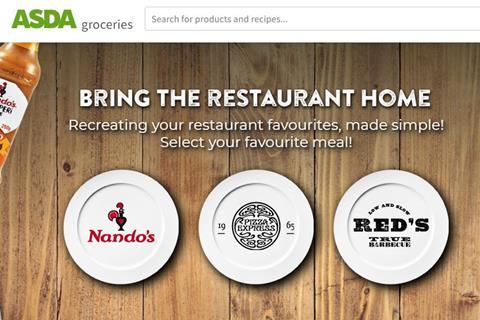 The page aims to help customers recreate meals from Nando's, Pizza Express and Red's True Barbecue

All three chains closed their doors to sitting customers and deliveries in late March
Asda.com has launched a page for customers to "bring the restaurant home" and buy all the ingredients needed to recreate meals from Nando's, Pizza Express and Red's True Barbecue.
The page prompts users to select a restaurant and add everything they need to mimic the chain at home to their basket.
Homemade Nando's seekers, for example, first 'choose their flavour' from a selection of Nando's brand sauces and rubs, select from Asda brand chicken, and then 'choose their side' and starters from a selection featuring Asda garlic bread, sweetcorn and coleslaw, and McCain chips.
The campaign was created by All About Food, an fmcg company focused on "making restaurant brands successful in retail".
"With our customers unable to visit their favourite restaurants, we've teamed up with our suppliers to bring the restaurants to our customers' homes instead," said Alex Dalton, Asda's online trading co-ordinator for core grocery.
The three chains on the Asda page closed their doors to sitting customers and deliveries in late March as part of the government's lockdown measures.
"With all of our brands experiencing restaurant closures, we want to ensure consumers don't have to miss out on their favourite restaurant meals. This campaign was designed to inspire Asda shoppers to easily recreate familiar restaurant favourites, bringing all aspects of the meal occasion into one place," said All About Food brand manager, Ellie Cotton.
Several Nando's locations have since reopened for delivery and collection, offering a stripped-down menu so workers can more easily maintain social distance in its kitchens. Red's is offering delivery and collection from three locations and Pizza Express this week said it too was reopening for delivery, from 13 London sites.
The platform on the Asda website has been created with "inspiration and ease of shop in mind", Dalton added.
"Customers can create their own menu with everything they would need to recreate their favourite dishes, helping them to get their cook on at home at great Asda value. Watch this space as we evolve the page and find new and exciting ways to help customers bring their favourite out of home experiences in," he told The Grocer.
Iceland has promoted its own "build a takeaway" e-commerce page, which lists ingredients to recreate meals from popular chains. Social media marketing for the page asks if consumers are missing McDonald's, KFC, Pizza Hut or Burger King. "We've got the answer. Great value alternatives to your takeaway favourites," Iceland tweets read.
The activity was seemingly done without the support of the chains. KFC UK responded to the marketing to say: "This is why my mum goes to Tesco".