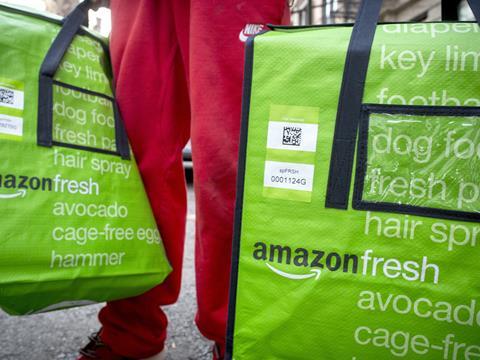 No-one outside Amazon knows when it's coming. But when Amazon Fresh does arrive, young adults are set to embrace it.

In an endorsement of the potential for Amazon to speed into the grocery market, new research from shopper management specialist Bridgethorne reveals 78% of 18 to 34-year-olds will "probably or definitely" try grocery shopping with the online retailer. Only 5% said they would "definitely not" give Amazon a whirl.

And the expectation is not of doing so for the novelty value. Asked what proportion of their grocery shop they could realistically see themselves doing at Amazon if the experience met their expectation, 11% replied they would turn "all" their grocery shopping over to the online giant and a further 27% said they would do "most" of it there.

"That is the most amazing statistic," says retail analyst Nick Bubb. "That if it met their expectations, some 38% of the 18 to 34-year-olds would do most or all their grocery shopping with Amazon."
Assuming grocery shopping with Amazon meets your expectations, what proportion of your grocery shopping can you realistically see yourself doing via Amazon?
Base excludes 'Definitely not' responders from previous question
All Respondents, Male, Female, 18-34, 35-54, 55+, Family, Empty Nesters, Retired
All of my shopping 6.9, 7.8, 6.6, 10.9, 6.2, 2.4, 10.3, 2.5, 0.0
Most of my shopping 14.8, 21.6, 12.5, 26.6, 11.3, 4.8, 18.0, 9.9, 6.7
Some of my shopping 26.1, 17.7, 29.0, 32.8, 24.7, 19.1, 25.6, 24.7, 20.0
An occasional shop 21.2, 19.6, 21.7, 9.4, 26.8, 26.2, 20.5, 24.7, 33.3
I don't think so 31.0, 33.3, 30.3, 20.3, 30.9, 47.6, 25.6, 38.3, 40.0
Not that it should come as too much of a shock, adds Conlumino MD Neil Saunders. "Given the success of Amazon with the younger age segment, and their propensity to subscribe to Amazon Prime, it is hardly surprising they are the group most likely to try out the firm's grocery service. It is also true that grocery shopping among this group tends to be far more fragmented, with more grocers being used than average, so it is easier for them to fit a service like Amazon into their routines and lifestyles."

A spokesman for Amazon declined to comment on the research. But as emphatic as that 78% figure is, other responses gathered by Bridgethorne show Amazon will need to ensure it delivers on a number of other fronts in order to compete with the supermarket's established online models.
Is there anything that might prevent you from doing your grocery shopping with Amazon?
■ Prefer to see products in person 38%
■ Do not shop/do not like to shop online 26%
■ If it's too expensive 18%
■ Cost of delivery 18%
Promiscuous
All the major supermarket chains have online offers that have been honed, refined and expanded since Tesco became the first supermarket to offer UK-wide coverage in 1996. That they are famously unprofitable means they all keep working harder to keep the customers they already have. And Amazon won't have an easy time stealing them away, or keeping them coming back.

"Younger shoppers are generally more promiscuous with the type of shopping they do and where they shop," says John Nevens, joint MD at Bridgethorne. "But while Amazon has an opportunity to settle them down with new habits and achieve loyalty, they also potentially have a more difficult task in finding what it takes to make this happen."
How do you think Amazon will compare to your usual supermarket on measures including pricing, ranging, delivery slots, service and fair treatment of suppliers?
Supermarkets Better, Both the Same, Amazon Better
Price 32.4, 44.8, 22.8
Convenient delivery slots 35.2, 51.2,13.6
Speed of delivery 37.2, 50.8, 12.0
Wide range 39.6, 44.8, 15.6
Brands 39.2, 43.6, 17.2
Availability 34.8, 55.6, 9.6
Quality 39.2, 43.6, 17.2
Shelf life 34.8, 55.6, 9.6
Fair treatment of suppliers 32.8, 64.0, 3.2
The apparent enthusiasm shoppers have for giving Amazon a go when it comes to grocery doesn't quite extend to thinking they will do a better job than the supermarkets.
When asked how they thought Amazon would compare to their usual supermarket on a range of service measures, such as price and availability, one in two believed Amazon and the supermarkets would offer "the same" standards. But the rest of the field was split in the supermarkets' favour, with 36% believing the supermarkets would do a better job than Amazon across the board.

Even speed of delivery, which is a key selling point of Amazon's Prime Now offer - delivering in under an hour - came up short with those polled. Just 12% believed it would deliver quicker than the supermarkets. "I'm surprised that delivery efficiency doesn't score more highly for Amazon," says Bubb. "I'd have thought that was their killer advantage."
Amazon will be soon selling all kinds of food & drink in the UK.
How likely are you to try doing your grocery shopping with Amazon?
All Respondents, Male, Female, 18-34, 35-54, 55+, Family, Empty Nesters, Retired
Definitely NOT 18.8, 21.5, 17.8, 4.5, 15.7, 38.2, 8.2, 20.6, 54.6
Probably NOT 30.0, 33.9, 28.7, 17.9, 33.9, 35.3, 25.9, 39.2, 24.2
Probably WILL 34.4, 26.2, 37.3, 53.7, 32.2, 19.1, 41.2, 23.5, 21.2
Definitely WILL 16.8, 18.5, 16.2, 23.9, 18.3, 7.4, 24.7, 16.7, 0.0
Advanced and savvy
Certainly Amazon didn't slouch when The Grocer put its trial Prime Now grocery offer through its paces when it launched last October, delivering a Grocer 33 shop from smartphone order to our front door in just 46 minutes. But the Bridgethorne poll doesn't suggest "any expectation among shoppers that they will receive a superior or distinctive offer from Amazon" adds Nevens.

And Saunders says the "concern" for Amazon is that it has "a lot to prove. UK grocers are advanced and savvy. And they are, despite the odd blip, pretty good at understanding and delivering on consumers' needs. As such, Amazon will have its work cut out to persuade and convince consumers they present a better alternative."

Especially when it comes to older shoppers, the research also suggests. Older shoppers are less bowled over by the thought of switching the supermarket shop to Amazon. Only 26% of over 55s say they will probably or definitely give Amazon a go. And an emphatic 74% say they "definitely" or "probably" won't ever try.

"Those less inclined to consider shopping with Amazon tend to be older, which may be a symptom of their reluctance to change long held shopping habits," says Nevens. And when it comes to Amazon and grocery, he believes "appealing to both young and older age groups may be critical for long-term success."
Which of these would encourage you to start shopping with Amazon?
Total
Price 68.0
Quality 58.1
Speed of delivery 47.8
Wide range 46.3
Product availability 44.3
Delivery slots 38.9
Brands 37.4
Shelf life 35.5
Supplier fair treatment 27.1
Something else 10.3