Ever since Sainsbury's shocked the market with news of its £1.1bn approach to Home Retail Group on 5 January, speculation has been rife as to the rationale. At the fore is the theory that the mult will use Argos to fend off the increasing threat of Amazon. If it goes ahead the acquisition will create a non-food business to rival Amazon UK, CEO Mike Coupe said last week. As well as the online network developed under HRG chief exec John Walden, there would be the advantage of 2,000+ stores, analysts say.

To test this theory we pitted Argos against Amazon. Ordering products across three categories (toys, electronics and household) from each retailer, for home delivery and click & collect we compared the pair on service, price, and speed. And where better to begin than with the jewel in Amazon's crown, its Prime Now delivery service.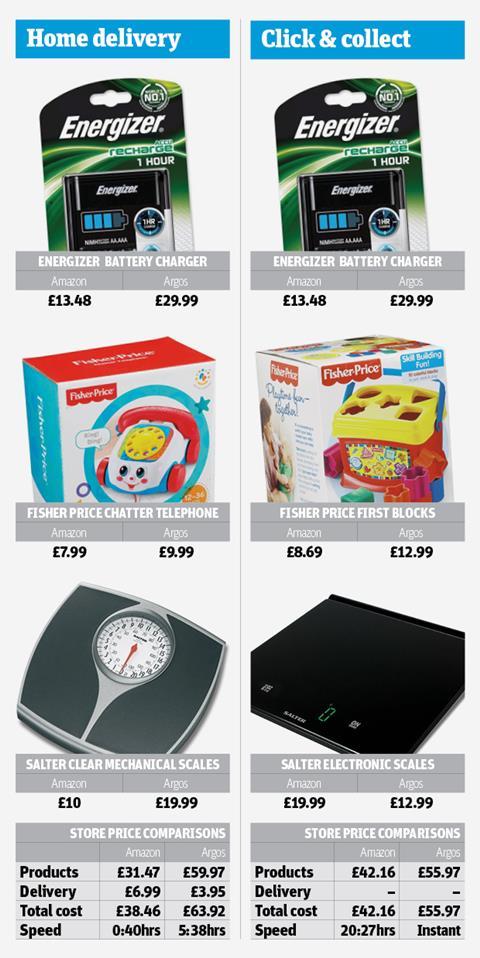 Home delivery

Amazon: It isn't cheap but delivery with Amazon Prime Now sure is fast. It took only eight minutes to pick our products on the easy-to-navigate mobile app (the only way currently to access the service) and from the final click at 9.59am it took just 40 minutes for a courier to trek across London to deliver the goods. Service is barebones, though, with only a verbal name check at the door, two products packaged in an open brown paper bag and the other loose.

The super-quick service has other limits. The catalogue includes just a fraction of the millions of products available on Amazon.co.uk (reportedly between 15,000 and 40,000 depending on your postcode) with a focus on more premium, higher-margin SKUs from what we could glean.

Then there's the price. While the individual products all undercut Argos, only Prime members forking out £79 each year qualify for the fastest deliveries. And if you're desperate to have an item in under an hour it'll be an additional £6.99 on top, which adds at least 18% on to our order.

Argos: If the cost of delivery is a priority for consumers Amazon loses out to Argos which charges flat fee of just £3.95 per order for its same-day delivery offer with no annual membership (adding 7% to our bill). This lower cost is a sign it can effectively leverage its sizeable store network to cut the cost of deliveries.

As with Amazon, though, the choice is limited. Only products marked with a Fast Track logo are eligible (around 20,000 SKUs) with both delivery and collection data visible on-screen the minute you click for further info. Availability does vary based on postcode and stock levels although the service is offered nationwide compared with the postcode lottery of Amazon Prime Now, another indication Argos online benefits from its bricks & mortar.

But the retailer can't match Amazon for its speed. The order takes five hours and 38 minutes to reach the same London postcode with the earliest delivery slot available at the time of ordering between 2pm and 6pm. That's an inconvenient four-hour window waiting around, narrowed to two later in the day as Argos texts through with an update. It's no surprise, though. While Amazon spreads itself thin working with multiple third-party carriers to fulfil orders, Argos relies on the smaller pool of its own drivers, with the limited exceptions of Royal Mail fulfilling select numbers of orders, and a few delivered direct from suppliers.

That feeds into a superior customer service experience, though. Drivers ring when they're close by, ask for a signature, and were less rushed in our experience.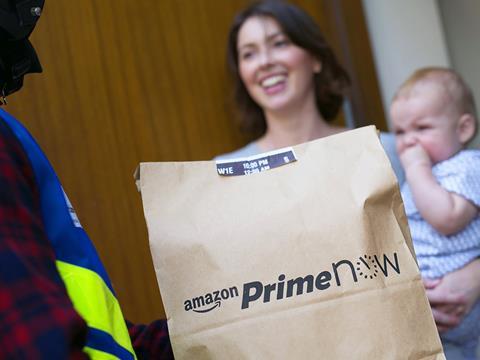 Click & collect

Amazon: At 20 hours and 27 minutes opting to collect our order from an Amazon pick-up location was the lengthiest option of all four orders. It was also the most laborious.

To qualify for click & collect from one of the four different types of Amazon pick-up locations (Locker, Pass My Parcel, Royal Mail Local Collect and Doddle) products have to fall within strict dimensions on both size and weight. Amazon Lockers are the most restrictive with only those items weighing up to 4.5kg eligible. Whether a product will fit at a particular site is only flagged up late in the ordering process, a problem if you're looking for same day availability - only possible at Pass my Parcel locations. It's a confusing process finding three items that can all be collected and even then the quickest option offered is the next day.

These restrictions on Amazon's click & collect are significant. With the popularity of click & collect poised to overtake home delivery, according to a report from strategy consultants OC&C, Amazon suffers from its lack of physical presence, and failure to establish a tie-up with any hefty national retailer. Our pick-up takes place at a c-store on the outskirts of Crawley.

Argos: As a result it's with click & collect that Argos appears to have a real advantage. The range might be dwarfed by Amazon but it's hard to find a single item across its online catalogue of 50,000 SKUs that isn't available for free in-store collection beating Amazon hands down on ease of use. Clear symbols flag up the option alongside each product while adding in the postcode immediately shows how long we'll have to wait.

Not long at all, it turns out and for immediacy Argos beats its rival once again. As soon as our three products are ordered we're sent both a text and an email to let us know they're available immediately at the store we've chosen only a few miles away and will be held for seven days. There's also the option to reserve and pay in-store, although items will only be held until the end of the following day in that instance. It's another dimension to its service that Argos can offer as a result of its 800+ UK stores. Will Coupe be able to continue this efficiency if he chooses to rely on far smaller Argos concessions in large Sainsbury's?

Picking up the items is a breeze, too. There's a dedicated Fast Track counter, no queues, plenty of staff and only seconds till we're handed over our order.

While the ultra-premium Prime Now is a distant (if expensive) first place on speed of delivery, an Argos acquisition would see Sainsbury's logistics unexpectedly leapfrog to the front of the mults' pack. If Coupe is looking to base his non-grocery business around click & collect, then he'd acquire a ready-made industry leader that even Amazon can't touch on ease and immediacy.
And what of Sainsbury's non-food offer online?
A typical Sainsbury's supermarket might stock 30,000 grocery SKUs but its current non-food offer - both in-store and online - doesn't come close to rivals Amazon and Argos. A quick search on Sainsburys.co.uk (the only option after the mult closed its dedicated non-food website) brings up just 94 pots and panscompared with 584 at Argos and 3,200 at Amazon. There's only 36 pairs of headphones available (Argos has 488 and Amazon a staggering 1.5m) and 21 packs of Lego (there's 187 at Argos and 70,000 at Amazon). Indeed the offer has dimished since August 2014 when the retailer announced it had discontinued many non-food lines on its site, including all TV's, tablets, computers, vacuum cleaners and microwaves.
This very limited offer coupled with the dominance of own label products in what remains (81 out of 94 pots and pans are Sainsbury's own range) leaves a like-for-like comparison between the mult, its potential target and Amazon UK nigh-on impossible when it comes to non-food. But it doesn't take road-testing Sainsbury's online to conclude it doesn't stack up even if you find the right product.
Having merged this non-food offer with its online grocery service all items come with minimum spend restrictions for both delivery and collection services (£25 and £20 respectively). This requirement leaves online users unable to even reach online checkout without adequately piling up their digital trolley.
For orders still below £40 there's a flat fee of £6.95 and orders above are charged based on delivery slot (between £1 and £6). There's no option for same day delivery with the earliest slots available the following day.
Click & collect comes at no added cost but once again the earliest option is next day for orders placed before 11pm.
If Mike Couple plans to take on the online might of Amazon it's clear he'll need a leg up to boost the retailer's current non-food offer. As it stands the mult simply can't compete.