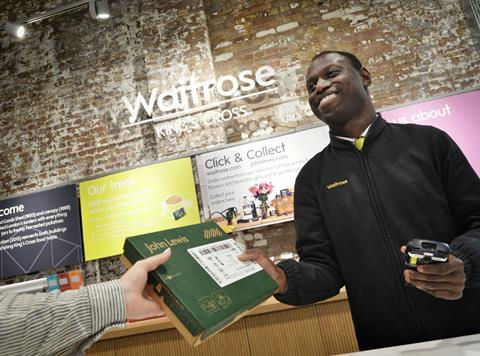 The number of households booking scheduled delivery slots for big-basket online grocery shopping has all but stopped growing, a leading analyst said last week.
Ray Gaul, senior VP of retail insights at Kantar Consulting, was commenting on online growth figures in major supermarkets' Christmas trading statements. He wasn't the only one to see them as less than stellar.
Ranging from about 3% to about 13%, they were "nowhere near as high as in the past," says Lisa Byfield-Green, senior retail analyst at LZ Retailytics.
Overall, online food sales in December were up 3.7% year on year according to ONS figures, while non-food rose 10.6%.
Lisa Hooker, UK consumer markets leader at PwC, thinks online food growth across 2018 came more from increased basket spend than increasing customer numbers.
So why isn't grocery seeing the online growth enjoyed in other sectors? And what can retailers do to change it?
Gaul thinks Christmas itself isn't as conducive to big-basket online grocery shopping as might be hoped. "We know UK consumers order fewer scheduled home deliveries at Christmas than during normal work weeks," he says. "People have more time to spend trying to create a Jamie Oliver recipe. Therefore they go out and buy ingredients they normally would not."
He also believes developments in 2018 have led to general underperformance in online grocery, pointing to the closure of Tesco Direct, the supermarket's non-food website, in July.
"People used to go to Tesco Direct for a Christmas jumper. While on the site they also looked for cornflakes and milk. Then they might notice a better deal on Ocado. This cycle of behaviour has finished."
A wider pull back on non-food promotions didn't help. "A Black Friday promotion on toys would lead people to also buy frozen pizza and lager, and then you would send them email reminders, coupons and so on."
Gaul thinks the Christmas results show there is still plenty of opportunity for growth, just not necessarily in the number of customers for big baskets to arrive in a scheduled hourly slot. He compares the performances of Waitrose and Tesco. The former reported a 12.8% increase in online sales in the seven weeks to 5 January and of a 52% rise in the number of Christmas click & collect orders after extending the cut-off point. Tesco reported a 3.8% rise in members of Delivery Saver, its subscription-based scheduled service, and a 2.6% like-for-like increase in online sales in the six weeks to 5 January.
"The contrast is huge, with Tesco focused on Delivery Saver and Waitrose on last-minute," says Gaul.
C&C may be a driver, but when it comes to that other last-minute option, rapid delivery, not everyone is convinced yet. Sainsbury's, Tesco, Waitrose and M&S are all trialling it, but within limited territories because of the cost. Where third-party delivery startups are doing it independently, using contracted store pickers, the service is too expensive, with delivery charges of up to £10, shelf price mark-ups and sometimes an added picking fee.
"You can end up paying £47 for £30 of shopping," says the digital chief of one major supermarket. "That would have to be quite a distressed purchase."
The source argues the fact is grocery delivery is expensive, and supermarkets have impeded their own growth potential by not persuading consumers of the same. "The industry has done an incredibly bad job of explaining to consumers the cost of getting online grocery to them." The comment is in line with a recent Capgemini report that claimed last-mile delivery costs were eating into profit margins while only 1% of consumers were willing to pay the full cost. It's why supermarkets are trying new models, such as Tesco's Delivery Saver and Sainsbury's Delivery Pass, allowing consumers to pay by subscription, our source adds.
Cagemini concluded retailers needed to invest in getting the job done more efficiently, through automating warehouses and 'dark stores' intended only to fulfil online orders.
But Byfield-Green highlights a competing pressure to invest, from the discounters, whose lean operating model permits fast growth while largely ignoring the online market.
"Retailers are having to invest in price and differentiation and product innovation to compete more effectively against the discounters," she says. "This puts profitability under pressure and naturally leads them to consider more carefully how to invest their resources."
Some analysts think most retailers have the balance right and warn of needlessly cannibalising in-store sales by focusing too much on growing online. "The worst thing to do is compete within channels - force a consumer who is quite happy with a supermarket visit to do an online shop," says Bruno Monteyne, senior analyst of European food retail at Bernstein. "What is the point of that? Much better to lead with the best offer, the best service, and compete with the others rather than internally."
Brittain Ladd, founder and CEO of Six-Page Consulting, also thinks that, while "click & collect is popular", supermarkets "need to focus on getting more customers to shop in their stores versus getting more to shop online.
"Statistics prove that customers who shop in grocery stores spend more."
But whether supermarkets prefer them in stores or not, forecasts suggest the number shopping online is set to grow, be it for scheduled deliveries or on-demand alternatives. Capgemini forecasts 56% of UK customers will order groceries online at least once a week by 2021, up from the current 43%.
For supermarkets who temper their efforts for fear of cannibalising their own store sales, there must be a threat that a competitor trying harder will tempt their customers online instead. But with the march of the discounters, their challenge is spreading resources over battlefronts.