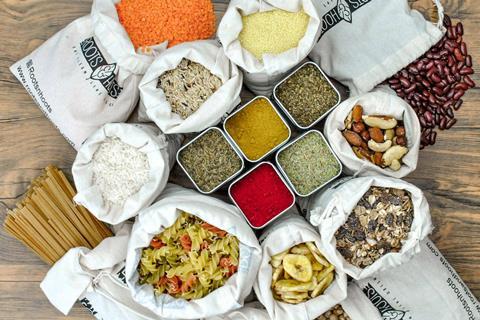 Brighton-based closed-loop grocery brand Roots & Hoots is preparing for expansion into London.
The company currently serves Brighton and surrounding areas but expects to launch in the capital by the end of Q2.
The brand offers a range of zero-waste and organic, sustainable products and "we don't have any plastic in the whole cycle" according to founder Shiv Misra.
Products are delivered by electric vehicle in reusable cotton bags, tins, or glass bottles, which are collected from customers, washed, and reused for the next delivery.
The brand launched in November , operating from a dedicated warehouse in Brighton. Expansion into London was an immediate priority "purely because of the size of the market" Misra said.
"All our research suggests huge appetite for the service there," he said. It's definitely a market for us to tap into."
The London service is expected to operate from a mini distribution centre, which will be replenished from Brighton as required.
Roots & Hoots joins a growing market of closed-loop grocery services. Members-only online grocer Good Club launched a similar service with next-day collection of empties earlier this month. The proposition is similar to that of reusable packaging platform Loop – which launched online with Tesco in July.
Compared with those services, Root & Hoots has a far wider range – which will total up to 750 SKUs by the end of Q1 – and no deposit is required for the containers, or membership fees. Shipping is free on orders over £20, with next-day delivery available.
"We wanted it to be as convenient as possible for people and for them not to be put off by a membership fee," Misra told The Grocer. "It's easy to try for the first time. It gets people used to the concept."
Collection of empties can be scheduled by the customer when convenient, but many customers exchange the containers when their next order arrives. There is "minimal" packaging in the whole order cycle that can't be returned – about 10% – but all of that is biodegradable.
Misra launched Brighton vegan sustainable supermarket Kindly in late 2019. His latest venture is self-funded.
Misra said his Despite his capital raising and corporate-backed competitors were all helping spread the word about closed-loop grocery delivery.
"They are building consumer understanding. Ultimately, we need many more players in this area so that we can start putting pressure on the big supermarkets to make, if not closed loop, much less wastage in the whole delivery life cycle," he said. "Because the waste generated is huge and could be avoided."