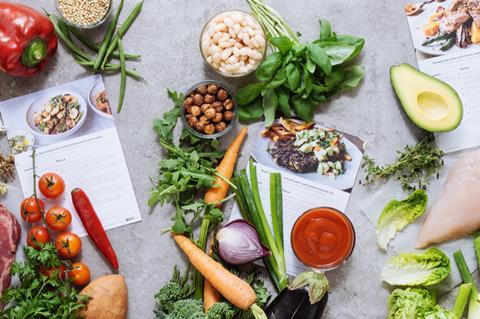 Gousto and Riverford are prioritising loyal users and have stopped accepting new customers

Mindful Chef has registered a 452% spike in new recipe box customers

Orders from Pasta Evangelists were up 10 times on the same period last year
DTC recipe kit providers have been forced to turn down new customers as they grapple with "unprecedented" levels of demand.
As PM Boris Johnson advised Britons to stay home last week – with the request turned into a UK-wide lockdown yesterday – DTC meal kit businesses have reported record levels of orders, with some forced to temporarily shut down their services.
Gousto and Riverford have stopped accepting new customers in an effort to prioritise orders from loyal users with existing subscriptions.
"We've seen unprecedented demand at very short notice, putting a huge strain on our box-packing lines and drivers," Riverford MD Rob Haward said.
"To help us catch up, we had to temporarily stop taking any new orders or accepting new customers."
Riverford reopened its website last Friday but was forced to temporarily close it once again within 24 hours after reaching capacity for the week.
The business also reported a 25% sales increase so far, mostly driven by customers self-isolating or avoiding public outings, leading to an expected positive impact on financial performance.
Mindful Chef – which is still accepting new customers and orders – registered a "gargantuan" 452% spike in new recipe box customers and a 387% increase in frozen meal sales, based on weekly sales figures.
Customer basket size increased significantly, with some spending over £500 in one order.
"As a young agile business, we have been prepared for growth for some time," co-founder Giles Humphries said.
"No one could have predicted how quickly the level of demand has grown, however, unlike most other online grocery services we have not had to turn away a single order."
Mindful Chef now expects the virus to have a "significant positive impact" on business performance with annual recurring revenue jumping from £25m to £40m in the short term, Humphries added.
"We predict the business will double in sales as we reach out to help more customers, who were previously unaware of the category, discover recipe boxes," he continued.
Smaller supplier Pasta Evangelists also reported a "strong spike" in orders, up 10 times compared to the same time last year and fivefold over January.
Founder Alessandro Savelli said: "This is an incredibly busy period but we have to try to do our best to meet customer demand.
"We are lucky that our business model fits in with what consumers are looking for in this challenging situation."