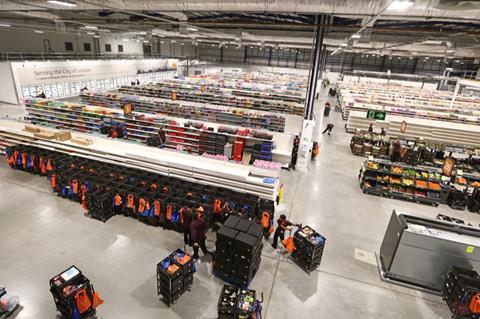 Internet-only 'dark stores' attached to the biggest supermarkets are the future of UK grocery, according to Supermarket Income REIT.
The big four omnichannel trend was the best solution for last-mile fulfilment and stood to drive property investment further, the real estate investment trust said.
Supermarket Income REIT is the second property company in a week to highlight how the big four are increasingly taking space from the trading floor in the biggest branches to use for dark stores serving online orders. On Wednesday, consultants Colliers International said the move was keeping the largest Tesco, Sainsbury's, Asda and Morrisons' branches viable amid rents rising above market value.
Supermarket Income REIT, which owns five Tescos, three Sainsbury's and one Morrisons, said it was actively targeting omnichannel stores and the extra value they presented.
"We invest in omnichannel stores, which we believe are the future model of grocery in the UK," said chairman Nick Hewson. "Omnichannel supermarkets operate both as physical supermarkets and as online fulfilment centres. We target stores which perform a critical role in the business strategies of our tenants."
He added: "The big four grocers continue leveraging their existing store networks to support last-mile logistics for online grocery. As a result, growth in e-commerce sales is driving value creation in these locations that is not yet fully reflected by the investment market."
An investor presentation said online-only fulfilment was best focused in London, an area poorly served by supermarkets themselves. Elsewhere, large omnichannel stores with a full range and an "urban warehouse" were the best solution for last-mile fulfilment.
It highlighted an automated warehouse at a Tesco Extra in West Bromwich. The 20,000 sq ft dark store is in partnership with Takeoff, which specialises in small automated fulfilment sites. It's the first of 25 "urban fulfilment centres" outlined in Tesco's interim results in October last year. The first three, including West Bromwich, are to open this summer, with the rest to follow in the next three years.
The presentation also said terms had been agreed for a Thetford Tesco to get a solar-panelled roof, generating energy to be sold back to the retailer. It follows a Tesco announcement in October of plans to build a network of 187 solar-panelled store roofs.
Colliers' latest grocery real estate property review said supermarket property investment had surged 80% to a six-year high of £1.78bn in 2019, thanks to leases that guarantee rent increases in line with the retail price index.
But while promising solid returns for investors, the same lease terms had led to the mults paying rents well above open market value, and the big four were making their largest branches more viable through the addition of dark stores.