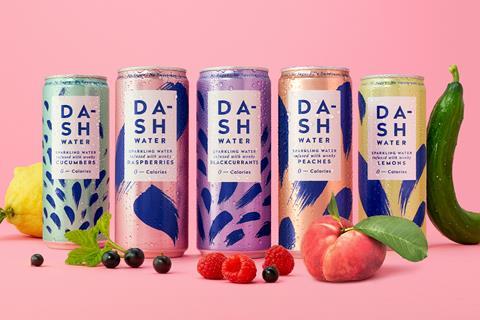 London seltzer startup Dash Water has landed a US distribution deal with Iris Nova, the Coca-Cola-backed soft drinks maker and distributor.
It will see the drink brand's five-strong range of cans – Peach, Raspberry, Blackcurrant, Lemon and Cucumber – distributed across the US via Iris Nova's direct-to-consumer platform, which takes orders by text message.
Through Iris Nova, which makes the trendy Dirty Lemon brand, Dash has also secured listings at upmarket retailers and gyms in New York.
Dash co-founder Alex Wright said it was "clear consumers were looking for sustainably produced beverages, which are also free from the usual high quantity of unnatural ingredients". The brand was "the perfect addition to the US soft drinks category" he added.
Wright's partner Jack Scott said: "We're going into this massive category and we've got the right partner to put our first step forward.
It comes after Dash lost 70% of its distribution points following the UK lockdown, as offices, restaurants and cafés closed in line with government rules.
However, morale was still high and the business hadn't had to furlough any staff, Scott told The Grocer
"We've been really lucky that we have a strong position online, and we've come in over budget for May due to online sales," he added.
Dash has also secured listings for its latest variant, Peach, at Ocado and Sainsbury's, having initially launched it exclusively online.