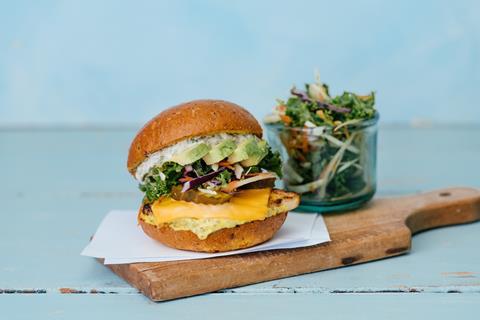 Deliveroo is launching several health-focused delivery-only brands, which will be licensed to restaurants to operate from their own kitchens.
The takeaway tech firm is creating a series of new restaurant brands "from scratch", each with its own name, logo, menu and recipes.
"Deliveroo will own the name and logo of the brand, but partners will operate the brands out of their own kitchens," the company said today.
The first of the new brands is called Dream Burger, promising a range of "healthy, affordable and tasty burgers and sides" including plant-based options.
One Dream Burger offering is the San Diego Burger, a Linda McCartney's plant-based quarter-pounder patty served on a carrot and turmeric bun, with the option of adding kale slaw or sweet potato wedges on the side. The brand's various sauce options are "boosted with super ingredients" like chia seeds, cider vinegar and edamame, Deliveroo said.
Each menu item has been created in partnership with nutritionist Rhiannon Lambert.
"We have created a menu of mouth-wateringly quick, affordable and nutritious meals," Lambert said.
"Our approach couldn't be more straightforward. We want to boost healthy eating patterns across the UK and dispel the belief that healthy food is expensive, hard to find and can't taste delicious," she added.
The other new brands are yet to be named, but will be health and nutrition-focused, Deliveroo said. Restaurants will receive "detailed guidance" on how to prepare and serve menu items. It is understood licensing arrangements will be bespoke for each restaurant.
Deliveroo – whose deal with Amazon is currently under investigation by the Competition & Markets Authority – today also announced the launch of a free healthy menu consultancy service for restaurant partners.
"The company will harness its unique data science and insights to identify suitable cuisines, dishes and price points. It will then work with selected partners to provide nutritionist support with menu design, ingredient sourcing, staff training, branding and marketing investment," Deliveroo said.
The consultancy's first launch is the RhiNourish Bowl, offered through Mexican food chain Barburrito. It was again designed in collaboration with Rhiannon Lambert.
The brand launches and consultancy service are part of a £1m investment by the food delivery firm. It comes in response to a 181% increase in the number of "healthy orders" on the platform over the past three years.
A Deliveroo survey found seven in 10 people wanted to see an increase of healthy options on food delivery apps. More than two thirds of Brits would order more regularly if there was a greater availability of healthy options.
"Deliveroo's approach is simple. We want to increase the choice of delicious, healthy takeaways to our customers in 2020," said Deliveroo founder and CEO Will Shu.