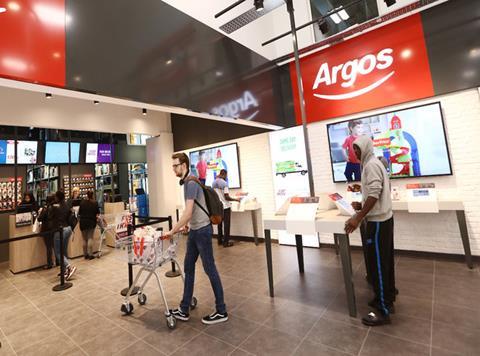 Barely a Sainsbury's press conference goes by without Mike Coupe talking up his online ambitions. And it's clearly more than just a buzzword to the CEO. Online sales were up nearly 7% in 2017-18 and over 8% the year before that, making it the fastest-growing channel for the retailer after convenience.
All this has been underpinned by some fairly tentative moves into faster turnaround times. The Chop Chop one-hour service is now available to 1.7 million customers in central London, having started out as a small-scale trial in Wandsworth, and same-day delivery is gradually rolling out across the country after starting out as a service only available in three stores.
The appointment of Clodagh Moriarty, who has overseen these developments, as group digital chief this week suggests things might be about to step up a gear. True, it doesn't seem like much of a departure from her previous role of director of online. But the key word in this newly created title is 'group'. Moriarty will not only be tasked with keeping Sainsbury's up to speed with online developments, but she will look to integrate its offering with Argos, Sainsbury's Bank and Nectar.
Argos is likely to be the most important of these components. Coupe has always made clear the online capabilities of Argos – whose fast-track service promises to deliver within four hours – were among the main attractions behind the merger. Having one senior figure overseeing the digital side of Sainsbury's and Argos means the idea of having a new microwave or TV delivered alongside your milk and bread, all within the space of hours, is no longer a distant dream.
Combining Sainsbury's and Argos deliveries would present obvious logistical challenges but, if possible, it would offer something even Amazon doesn't. AmazonFresh is still largely unavailable outside the M25 and, even in its East London heartland, there's no option to tag a small general merchandise purchase on to your food order.
Plus, with the Asda merger on the horizon, there are even more possibilities in online. At the merger presentation, Coupe suggested George by Asda – the UK's biggest clothing brand by volume – would be available on the Argos website if the two businesses combined, sitting alongside the Tu range (itself only added to the Argos site in April, having previously been limited to purchase via Sainsbury's site). Could customers eventually be able to order a George dress or suit alongside their groceries, with the added bonus of 10% off prices?
The City reaction to the Sainsbury's-Asda merger was enough to get Coupe humming "we're in the money" in a trance-like state on TV. If the business can reach its full online potential, it may not be long before he starts singing again.