Rural homes, high-rise flats and even customers not answering the door pose problems for online grocers. Is there any way to eliminate the issue?
From the customer's point of view, it couldn't be easier. Simply fill up your basket online, press checkout and wait for your groceries to arrive on your doorstep. But for supermarkets, this seemingly simple operation is fraught with pitfalls. The task of getting groceries from distribution centres to customers is mammoth in both scale and complexity.
Ocado, for example, delivers about 296,000 orders – that's around 194 per van – up and down the country every week. Figuring out which orders should go on which vans is a question with a huge number of possible answers. Or, as the online grocer has explained it, "try saying the word trillion twice per second for two minutes flat". Determining the most efficient route – the so-called travelling salesman problem – is one of the gnarliest in computer science.
Ocado and others are continually working to find the optimum loads, schedules and routes for their delivery fleets every day. "You need a lot of smart maths to get that right. If you do get the maths right, you get fantastic van utilisation which is what you're trying to get to optimise your last mile," Ocado Solutions CEO Luke Jensen told a Groceryshop conference crowd recently.
But where tyres hit tarmac, the best laid plans sometimes go awry. Ocado claims 94.9% of its 300,000 deliveries arrived on time or early in the past financial year, down a sliver on the year before but the implied 5% late or non-delivery rate – some 14,800 deliveries a week – is "industry leading", the online grocer says.
That absolute figure is likely to be far higher at bigger operations. Tesco, the UK's biggest online grocer, delivered 37 million orders in the past financial year. The Christmas before last, Tesco fulfilled 776,000 orders in a single week. Asda makes 20 million deliveries to customers each year (380,000 a week) from 2,000 vehicles.
If they have higher failure rates than Ocado, it translates to thousands of baskets every day that don't end up at the customer's door on time or at all. No wonder, according to a Mintel survey, a fifth of Brits who do some or all their grocery shopping online share the same complaint: late and failed deliveries.
So why do deliveries turn up late or not at all? What can be done to avoid it? And why does it matter?
Finding a customer's home is not always straightforward. Last-mile delivery technology firm PostTag analysed two million UK addresses and found satellite navigation systems were often way off the mark.
"On average 45% of all UK addresses are about 50 m from where a satnav will take you to," says PostTag CEO Paul Yewman. For a fifth of addresses, navigation equipment took drivers up to 80 m from the actual premises, the research found. This typically resulted in a time delay of many minutes while the driver found the right door.
PostTag also surveyed 400 drivers from Sainsbury's, Tesco, Amazon, Ocado, Waitrose, Iceland and other retailers. "They all tell the same story: they waste a lot of time each day searching for addresses their satnavs simply cannot find," says Yewman.
For drivers there is nothing worse, Yewman adds, than a "navigation system that tells them the delivery address is in front of them when it isn't. According to them it happens all too frequently, every single day."
"On average 45% of all UK addresses are about 50 m from where a satnav will take you to"
A wayward navigation system is a common complaint of supermarket delivery drivers. "They don't trust the one they have. Some are getting very old now," Yewman says. So getting the right system is crucial. Ocado's Jensen said the fact that "everybody loves their Ocado driver" is down to the technology aboard their vehicles, over any special training. "Our training's not very different from Tesco or Sainsbury's training. What happens is that we have put great technology at the service of our associates who are making those deliveries," he told the Groceryshop audience.
Anecdotally, many drivers who find their company -issued device lacking take their own additional satnavs or use Google or Apple Maps on their smartphone. Even then there are still issues, though. Satnavs aren't constantly updated with road changes, and new-build homes – of which a record 213,660 were completed in 2018/19 – must be registered. There is usually a sizeable delay before these addresses are added to registries.
Then when the address is found, drivers still need to find the front door. It might be up four flights of stairs or accessible only via a distant communal entrance with its own intercom entry. Drivers can leave notes to each other on addresses that have received orders before to help. Customers can also leave notes to drivers.
Location
There are certain areas that cause particular difficulties. Inner city areas can prove trickier due to the density of addresses and number of high rises. On the flip side, rural areas often have homes with names instead of numbers, and are miles apart from one another.
"One of the supermarket chains has stopped delivering to one of our directors' homes because they can never find it," says Yewman. "The customer gets fed up and will complain, the driver's stressed because they can't find the address and they know they'll get moaned at. It's a real problem."
Equally, in many cases, failed deliveries are no fault of the supermarket or driver. One former Ocado driver says some customers use the delivery "as their wake-up call". They reported knocking for five minutes without an answer and leaving "only to get a call to go back as they were asleep". A former Sainsbury's driver said that customers not being home and not answering their phone was "very common" and could happen as frequently as once a shift.
According to European logistics firm Eurosender, the most common reason for a failed delivery attempt is that "there was no one at the address to receive it".
Unlike hot food deliveries, customers are not typically salivating on the sofa and waiting for only around half an hour for their grocery items to arrive. To encourage customers to be ready to receive their orders, online grocers need to "create a growing sense of anticipation" says Duncan Licence, head of product at delivery management software firm MetaPack.
Tesco provides updates on a delivery's estimated time of arrival so customers can "plan your delivery day better". The supermarket also calls and texts about any delays. Ocado does the same. "Your driver will keep you informed when they can – when they're not driving, of course," it says. Customers can also sign up for text reminders, as they can at Morrisons. Sainsbury's emails and texts customers on the day of delivery "to confirm your order and timeslot", while Asda emails once the order is picked and packed and texts an ETA once it is out for delivery.
"Effective communication throughout the delivery process helps," Licence adds. "Allowing customers to track their delivery in real time and update their preferences in-flight is also becoming increasingly important."
In fact, the entire issue of getting deliveries right is increasingly important. Online's 7% share of total grocery sales is heading for 10% in 2023, according to latest figures from Mintel. What's more, Capgemini Research Institute found 43% of Brits received grocery deliveries once a week or more, a figure it predicts will increase to 56% by next year.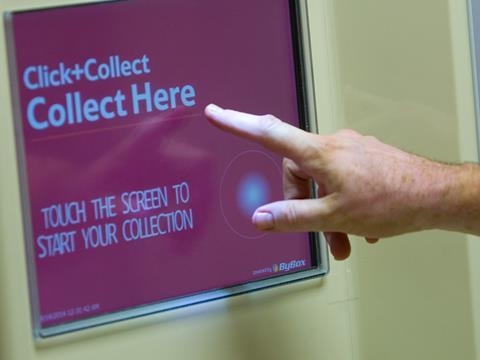 If online is to grow successfully, avoiding the unnecessary costs of a failed delivery are crucial. Because the cost of making home deliveries is high and margins are thin, if they exist at all. Ocado serves as an illustration of the challenges. The company's last results saw users and orders increase, while losses widened – which explains why its investors are more excited by its automation technology than its retail division. Even Amazon seems to be struggling to make it work, if its foray into physical grocery stores is anything to go by.
The dubious profitability goes some way to explaining why supermarkets are heavily promoting click & collect options as an alternative to doorstep delivery.
 But in the era of on-demand, customers won't be dictated to in how they receive their orders. In fact, they are demanding more choice in how and when they receive their delivery. They'll choose between retailers based on available options, a MetaPack consumer poll found. At the same time, they don't want to pay too much for it. Mintel found 24% of consumers who tried online grocery shopping stopped because of high delivery charges. A similar number thought the minimum order spend was too high. So many grocers are offering slots for as little as £1 or even 50p.
That's putting an even tighter squeeze on delivery costs, meaning supermarkets are working to be as efficient as possible. In October, Tesco revealed it had decreased its costs by 4% per order, in part by increasing the number of deliveries per van shift by 6%. Ocado has increased the number of deliveries its vans make a week by 28 in the past five years "through improvements in our complex algorithms which calculate delivery routes and cover variables such as timing of delivery slot, house location and order volumes", made easier by growing density of customers.
Making these planned calculations is getting harder as supermarkets battle to make turnaround times ever faster. Although Tesco customers can book slots weeks in advance, they can also receive a same-day delivery (which does come at a higher cost). Similarly, Ocado has a one-hour Zoom service for small baskets. Even in standard deliveries, Ocado allows shoppers to edit baskets and delivery dates as many times as they need to until their delivery's cut-off time, which can be as little as three hours before it is due to arrive.
"Many of our customers' lives vary from week to week, requiring us to provide a flexible range of delivery times, locations and options to edit their orders until the closest cut-off time possible. For others, routine is incredibly valuable, which we seek to help through our Ocado Reserved service," says Richard Locke, operations director at Ocado Retail.
Environment
All of which explains why there is little room for the cost of failed deliveries. But it's not just about money – there is also the environmental impact to consider. According to analysis earlier this year by the World Economic Forum, McKinsey and the World Business Council for Sustainable Development, the rise of online shopping will see the number of delivery vehicles in the top 100 cities increase by 36% over the next decade.
"Rising congestion and emissions from e-commerce delivery are already putting stress on city traffic patterns, and this pressure will only rise from growing demand unless effective intervention is quickly taken by both cities and companies," said the Forum's head of mobility, Christoph Wolff.
"Imagine how many delivery miles are wasted with people just driving around trying to find where an address is"
More delivery vehicles will create more carbon emissions, and lead to traffic congestion increasing by more than a fifth: the equivalent of adding 11 minutes to each passenger's daily commute, the analysis found. "Imagine how many of those delivery miles are wasted with people just driving around trying to find where an address is," says Yewman.
Ultimately, getting deliveries past the front door first time and in good time pays dividends. Satisfied customers who receive their deliveries on time have a higher average monthly grocery spend across all categories and order more frequently, a Capgemini Research Institute report found last year. "Firms that offer a winning last-mile delivery service can expect to see an expanded loyal consumer base with higher spend," the report states.
Licence reiterates that "customers are overwhelmingly loyal to a consistent positive experience". Which means keeping 'sorry we missed you' to a minimum is vital to getting the maximum out of online grocery. So anyone that manages to tackle the issue of oversleeping customers stands to win big.
Five innovative solutions to the delivery problem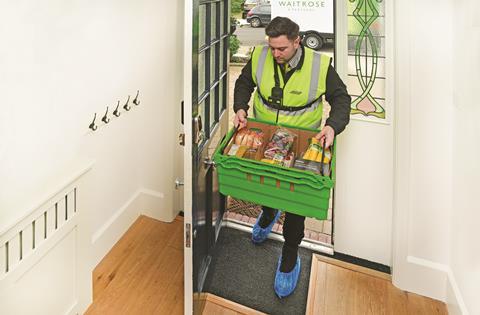 A key to the door
"Having to stay home for a delivery can be incredibly disruptive to your day and many of our customers now demand more flexibility," says Richard Ambler, head of business development at John Lewis Partnership Ventures.
To tackle this, Waitrose started a trial in 2018 of a service that uses smart locks to give delivery drivers temporary access to a customer's home when they are not in. While You're Away has since been extended to additional postcode areas. Asda is exploring a similar service after parent company Walmart launched its InHome service in three US cities late last year.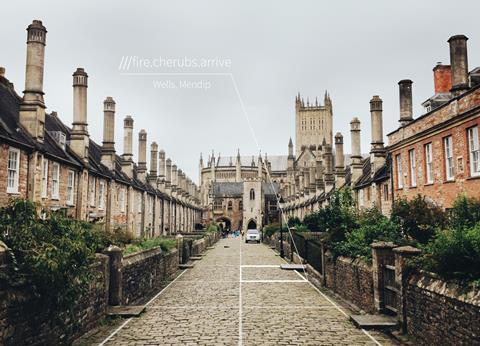 Pinpoint location
What3Words is a possible solution to the issue delivery drivers face in finding exactly where groceries should be taken. The system divides the whole planet into three-metre squares and gives each a unique three-word address.
The system can be integrated into checkout pages, so customers can guide drivers to, say, a side door on their house or easiest entrance to their apartment block. It does require users to know or look up their three words, however.
Domino's Pizza is using the geocode system in some regions – one benefit being pizza can be brought direct to your towel on the beach.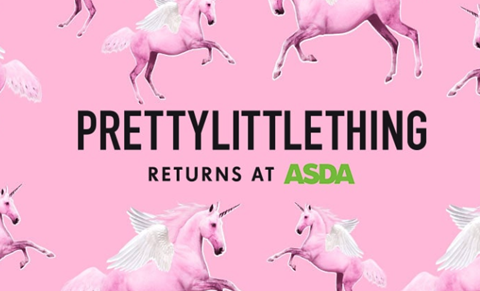 Anytime click & collect
The use of self-service lockers for online orders is well established. Asda built "the UK's first intelligent click & collect pod" at a non-store site near St Helens some years ago, while Waitrose has lockers at several stations and airports. Tesco is now exploring unmanned click & collect 'pods' built into shipping containers and placed in its car parks.
Some locker sites are now being developed into e-commerce returns drop-off points. Through Asda's ToYou initiative, customers of a range of fashion brands can drop off their unwanted goods and track their return to the retailer.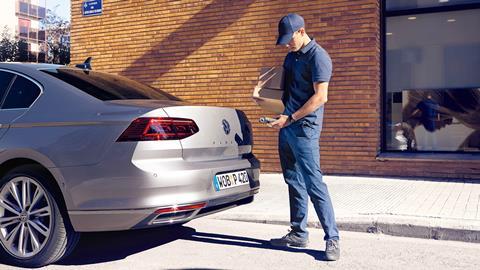 Pop the boot
While the customer might not be at home to receive their delivery, their car could be on the drive or nearby and serve as a locker. That's the concept being explored by the likes of Amazon, which has collaborated with several car manufacturers to allow for remote unlocking for parcel drop-offs.
John Lewis and Jaguar tested the concept in 2017, and Volvo and Volkswagen have worked with parcel firms and small businesses on similar projects. VW's We Deliver service is expected to launch in the UK this year.
Its feasibility with groceries is yet to be explored.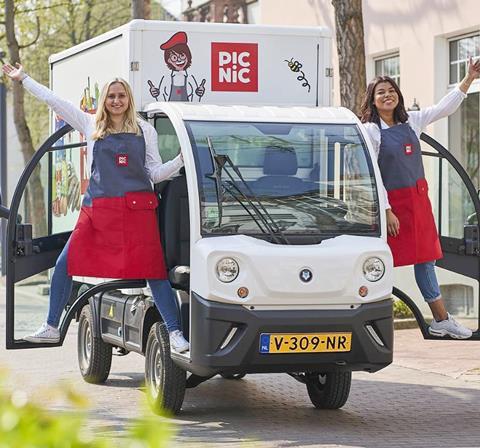 Remember the milkman
One way of avoiding customers forgetting their delivery window is by making it at a fixed time each week – an idea explored by Dutch grocery delivery service Picnic.
"We are in your street at set times, just like the milkman used to be," the company says. Customers also get a delivery window reminder – accurate to 20 minutes – in the morning and can track the round's progress in real time through an app.
If there's no one at home, groceries return to the delivery hub where they must be picked up by the customer by the next day.
What do the retailers do with your online shopping if you're not home?
Ocado: "Your driver will try to reach you by phone. If they fail to get hold of you, they'll leave a card letting you know what time they arrived, asking you to contact us. Always make sure you contact us straight away. If you do miss a delivery, we cannot guarantee that the driver will be able to return with your order on the same day. You may be charged for the perishable items in your order."
Tesco: "Check your mailbox for a calling card from the customer delivery assistant. You can also call customer services. They can try to reroute the delivery assistant to you if he has not yet come back to the store. If the van is back in store your order is cancelled, so you have to do the shopping again."
Sainsbury's: "We'll put a 'while you were out' card through your letterbox. This will contain details on how to get in touch with us to arrange an alternative delivery time. Drivers will also try to get in touch with you on the phone to rearrange a delivery time. While we may be able to organise a redelivery for a subsequent time, we may need to charge for this redelivery."
AmazonFresh: "For AmazonFresh orders, once you've gone through and completed the checkout process, you can't update your delivery slot or your delivery address. You do, however, have the option to cancel your order. If you're not in, redelivery will be arranged for the following day at no charge."
Waitrose: "If your order is due today and no one is available to accept and sign for your delivery, please call us. If you're not in, the driver will bring the items back to the store. You won't be charged for this."
Morrisons: "Your driver will try to reach you by phone. If they can't get hold of you, they'll leave a card letting you know what time they arrived, and asking you to contact us. If your order is returned because of something within your control (for example, if there is nobody at your delivery address within your booked timeslot to receive the order) we are entitled to charge you for the delivery charge for that returned delivery and the price of the perishable items contained in it."